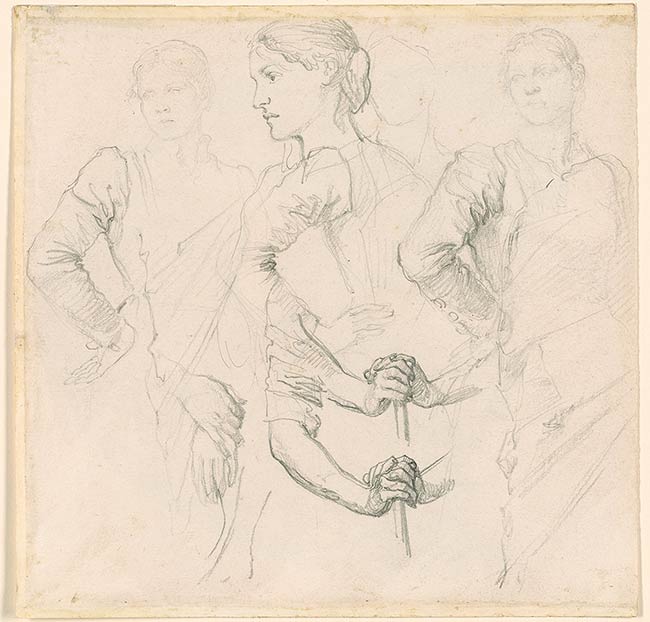 Four Studies of a Standing Girl and Separate Studies of Her Arms. Verso: Baptism of Christ (probably a copy after an Italian fresco)
Graphite, on paper; verso: watercolor.
9 1/4 x 9 7/16 inches (235 x 240 mm)
Gift of Patricia and Henry Tang in honor of Charles E. Pierce, Jr.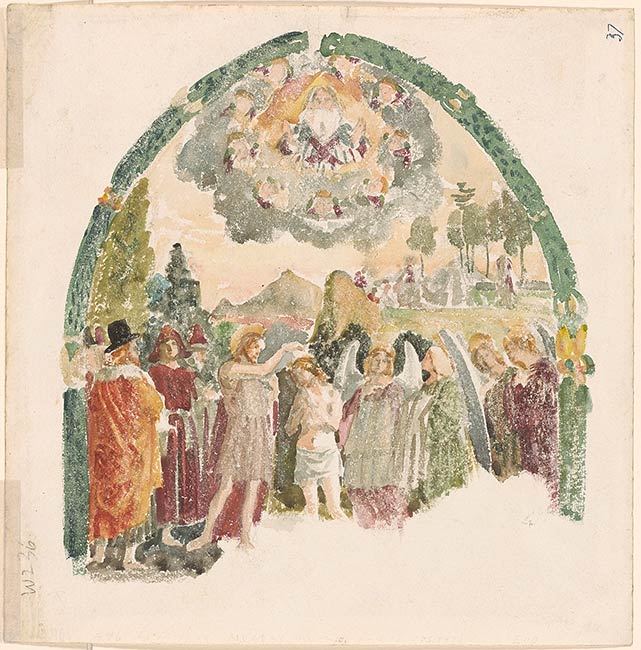 Inscription:
verso, lower left, in pencil, "W236", and upper right, in ink, "37".
Provenance:
Patricia and Henry Tang, New York; from whom acquired by gift, 2007.
Notes:
Watermark: J WHATMAN 18[ ].
A figure of great importance to the Morgan Library's history, Charles Fairfax Murray assembled the collection of nearly fifteen hundred drawings purchased by J. Pierpont Morgan in 1910. Murray was also a renowned and well-respected painter of the Victorian era. During his early career he worked for Pre-Raphaelite painters, such as Dante Gabriel Rossetti and Edward Burne-Jones, but he soon turned his attention toward Italy, where he lived much of his life as a collector and dealer in old master paintings and drawings as well as rare books. While in Italy, Murray continuously drew and painted after the works of Italian masters of the fourteenth and fifteenth centuries. The watercolor on the verso is a copy of an as-yet-unidentified Italian fresco, likely Umbrian or Tuscan c. 1500. It is an example of not only Murray's attention to the art of past masters, but also the facility with which he could capture the essential elements of narrative scenes in simple passages of color. The studies of a young woman on the recto provide a counterpoint, drawn from life with a linear use of graphite. Murray explores the position and features of a young woman in distinct sketches ranging in finish and attention. Thus, the two sides of this one sheet show the tenets that defined the Pre-Raphaelite art that was so influential in Murray's early years: a careful attention to observed reality and spiritual honesty present in the subjects of late-Medieval and early-Renaissance art.
Associated names:
Tang, Patricia P., former owner.
Tang, Henry, former owner.