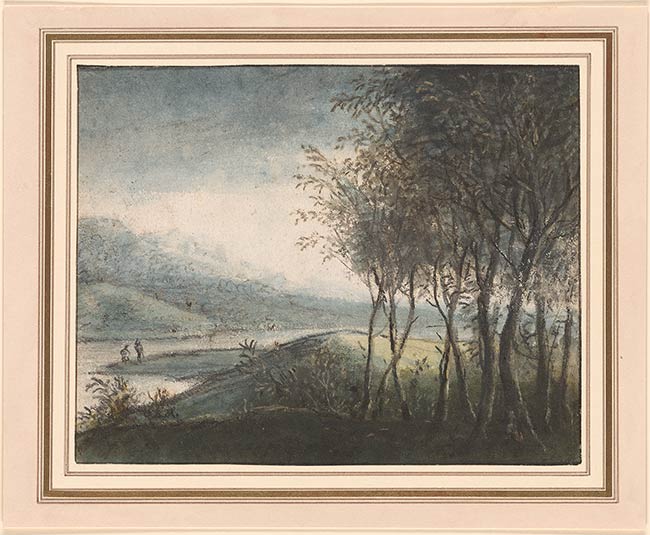 A Wooded River Landscape with Distant Mountains. Verso: A Mountainous River Landscape with a Castle on a Crag and a Distant Town
Black chalk and oiled charcoal with brown wash, watercolor and traces of colored chalks, on paper; verso: pen and dark brown ink, black ink wash, and gray and brown wash, over black chalk.
5 7/8 x 7 7/16 inches (149 x 189 mm)
Purchased on the Ryskamp Fund.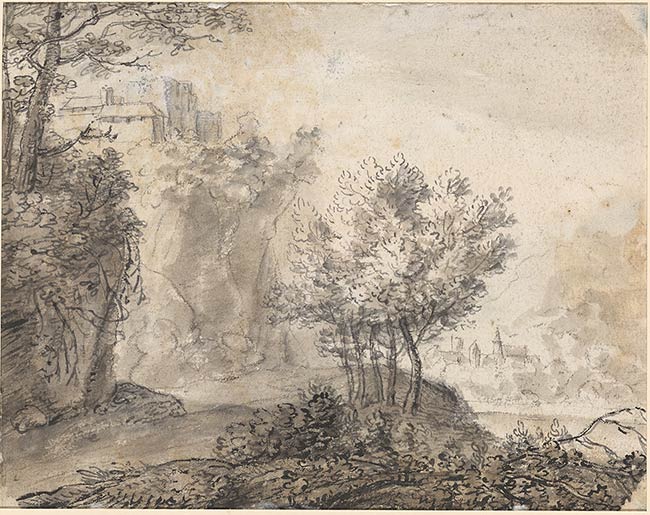 Provenance:
Thomas Le Claire Kunsthandel.
Notes:
Born in the Flemish town of Lille, Anthonie Waterloo lived and worked in the Netherlands for the greater part of his life after his father fled to Amsterdam for religious freedom. Although a painter by trade, Waterloo primarily produced a large corpus of drawings and etchings, chiefly of woodland and forest landscapes. Compositionally, his panoramas took inspiration from Jacob van Ruisdael. A journey down the Rhine, probably in 1655, and trips through Northern Germany and Poland soon thereafter, would further inform his landscape practice. The artist likely sold sheets pulled from his sketchbook depicting views from these voyages. This exquisite drawing is a remarkable demonstration of Waterloo's skill in creating a rich and atmospheric landscape employing subtle variations of green and blue hues. The sheet belongs to a small group of around twenty highly decorative and technically innovative watercolor and colored chalk drawings, examples of which exist in the Fitzwilliam Museum, Cambridge and the National Gallery of Canada, Ottawa. The more loosely drawn pen-and-ink verso is similar to drawings produced on his sojourn to Northern Germany in the period 1655 to 1660, a fact which may help date this sheet to his mid-career.