A Kneeling Young Man Seen from Behind. Verso: Study of Two Hands and Legs
Brush and red ink, and opaque red and white watercolor, on brown paper; upper left corner made up; verso: red chalk.
11 5/8 x 8 1/4 inches (294 x 206 mm)
Purchased as the gift of Eugene V. Thaw.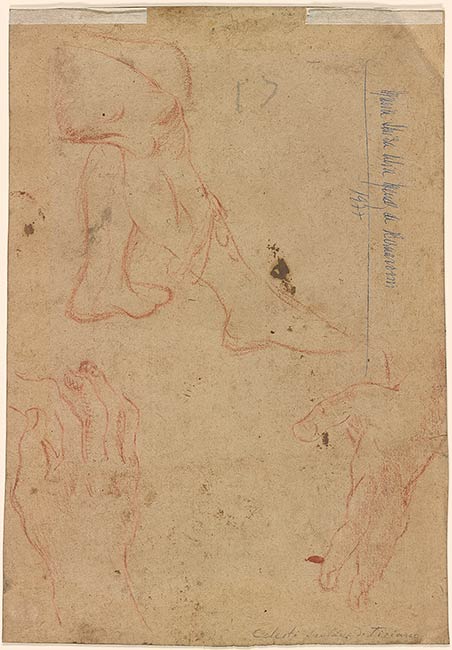 Inscription:
Inscribed, Celesti scolare di Tiziano.
Provenance:
Giuseppe Vallardi (Lugt 1223) with associated number, E317, in red chalk; G. Locarno, Milan (Lugt 1691); G. Pacini (L. 2011); Captain Carlo Prayer, Milan (Lugt 2044); Juan and Felix Bernasconi, with associated inscription and date, 1977 (not in Lugt); Pierre de Charmant; sale, Christie's, Paris, 21 March 2002, lot 60, bought by Artemis / C.G. Boerner, London and New York; sale, Christie's, London, 4 July 2006, lot 36, repr.
Bibliography:
Old Master Drawings, Artemis - C.G. Boerner, London and New York, 2003, no. 12.
Notes:
Born in Modena in 1637, Sigismondo Caula was the preeminent artist of his generation. A painter, sculptor, draftsman, and stuccatore, he trained with the artist Jean Boulanger. He was active primarily in Emiglia Romagna, where he worked with Boulanger on frescoes in the Este residence in Sassuolo and the Palazzo Bentivoglio in Gualtieri. After a brief sojourn in Venice in 1667-70 studying the work of Paolo Veronese and Jacopo Tintoretto, Caula returned to his native Modena where he received commissions for sculpture. In 1671, he collaborated with other pupils of Boulanger on the decoration of the chapel in S. Vincenzo, studies for which survive in the Galleria Estense, in Modena. He executed frescoes in the Duomo (preparatory drawings for which in the Galleria Nazionale, Parma) and other churches in Modena. He received his last commission in 1708 for ceiling decorations in the church of S. Agostino. Caula was appointed official court painter at the Este court. His style fuses the teachings of his master, Boulanger, with pictorial and stylistic elements from Venetian painting of the sixteenth century.
Though numerous paintings by his hand are extant, drawings by Caula are relatively rare. The present sheet compares well in style and technique with other known drapery and figure studies. One such example sharing similar provenance is in the Fondation Custodia in Paris (J. Byam Shaw, The Italian Drawings of the First Lugt Collection, Paris, 1983, no. 405, pls. 456-7). Five further drawings by the artist of similar technique were in the Benno Geiger collection, Vienna (sale, Sotheby's, London, 7-10 December 1920, lots 74-75; Benno Geiger, Handzeichnungen Alter Meister, Vienna, 1946, pls. 58-91). One is now preserved in the British Museum (inv. 1920-12-20-1), another was with P. & D. Colnaghi, London, in 1951, while two were with Paul Prouté, Paris, in 1981. Other similar studies by the artist are in the Metropolitan Museum of Art, New York (J. Bean, 17th Century Italian Drawings in the Metropolitan Museum of Art, New York, 1979, no. 129) and the Ecole des Beaux-Arts, Paris.
Associated names:
Vallardi, Giuseppe, 1784-1861, former owner.
Locarno, G., d. 1868, former owner.
Prayer, Carlo, 1826-1900, former owner.
Bernasconi, Juan, former owner.
Bernasconi, Felix, former owner.
Charmant, Pierre de, former owner.
Thaw, Eugene Victor, donor.