Mounted Egyptian Warrior; verso: Studies of a Classical Female Warrior with a Quiver
11 x 13 1/2 in. (279 x 343 mm)
Bequest of John M. Thayer.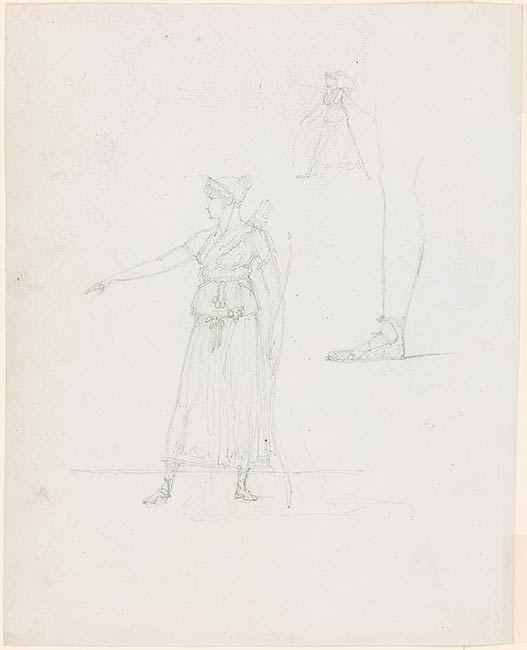 Inscription:
Watermark: Grapes with large hollow stem and knot, centered between chain lines.
Provenance:
John M. Thayer (1945-2004), Wilmington, DE.
Notes:
Vernet produced numerous scenes of Egyptian warriors on horseback, many of which were reproduced by other artists in engravings and lithographs to meet the demand in France for images of North African subjects. Vernet's representations gave visual form to the ongoing military conflicts between French forces in Egypt and the local fighters, including Egyptian forces and the Turkish Mamluk warriors who fought alongside them.
This mounted Egyptian warrior grimaces in surprise and fear as he grabs his panicked horse's mane with one hand, and seizes his musket with the other. He also wears a dagger across his chest and a sword on his hip. These accoutrements suggest he might be a Bashi-Bazouk, a mercenary fighter for the Ottoman empire who was unpaid but rewarded in plunder, or a member of the Turkish Mamluk forces in Egypt.
Associated names:
Thayer, John M. (John MacLane), 1944-2004, former owner.