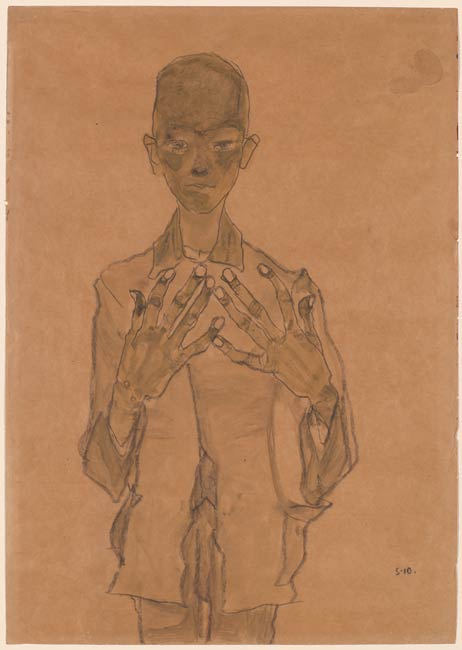 Standing Boy with Hands on Chest
Watercolor and black chalk on brown paper.
17 5/8 x 12 1/2 inches (44.8 x 31.8 cm)
Inscription:
Initialed and dated at lower right, "S. 10".
Provenance:
Joseph M. Stone; Parke-Bernet, March 10, 1966, sale 2415, lot 58, repr.; Galerie St. Etienne, New York; from which acquired by Fred Ebb, New York, in 1968.
Notes:
Schiele was a prolific draftsman who at times created an average of a drawing a day. When he died at the age of twenty-eight during the 1918 influenza pandemic, he left behind about three thousand watercolors and drawings. Gustav Klimt was an important influence on Schiele, helping him to move away from the conventionality of his academic training. In Schiele's early drawings, forms are defined by simple contour lines, with no shading and little articulation of volume. The year 1910 marked a breakthrough in Schiele's development. He abandoned Klimt's highly decorative style in favor of a more direct form of expression. A hallmark of his new style was the use of oversized hands to convey the weight of the subject's emotions. This sheet may date from the summer of 1910, when Schiele spent several months in Krumau, his mother's hometown in Bohemia. There he began to draw children, especially peasant boys, whose youthful, untutored poses he found appealing. This watercolor displays the hallmarks of Schiele's new style, notably the oversized hands with spread fingers emphastically raised in front of the boy's chest in an awkward gesture. They reveal the heightened sensibility, fragility, and shyness concealed behind the subject's more impassive face. Also typical of Schiele's new development that year is the use of unnatural flesh colors, such as the green applied on the face and to accentuate the fingers' articulations.