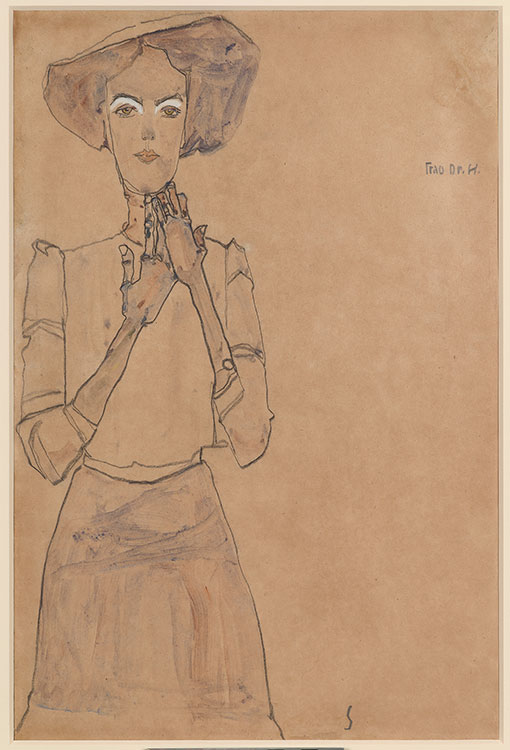 Frau Dr. H[orwitz]. Verso: Partially Draped Woman with a Hat
Colored pencil, gouache and watercolor on brown paper; verso: graphite pencil.
17 1/2 x 12 inches (44.4 x 30.4 cm)
Inscription:
Initialed at lower center, "S"; inscribed at upper right, "Frau D.H.".
Provenance:
Horwitz Family; Godfrey Pilkington, London; Galerie La Boetie Inc., New York (by 1971); Helios Gallery, New York; from which acquired by Fred Ebb, New York, in 1977.
Notes:
Schiele was a prolific draftsman who at times created an average of a drawing a day. When he died at the age of twenty-eight during the 1918 influenza pandemic, he left behind about three thousand watercolors and drawings. Gustav Klimt was an important influence on Schiele, helping him to move away from the conventionality of his academic training. In Schiele's early drawings, often of female subjects, forms are defined by simple contour lines, with no shading and little articulation of volume. The pose and self-confidence of Schiele's models are also in keeping with Klimt's depictions of women. The year 1910 marked a breakthrough in Schiele's development. He abandoned Klimt's highly decorative style in favor of a more direct form of expression. A hallmark of his new style was the use of oversized hands to convey the weight of the subject's emotions. This drawing is one of four of Mrs. Horwitz, probably made at the same time. It may have been a commission. The bold composition gives the figure a strong sense of verticality. She is looking directly at the viewer; Schiele heightened the intensity of her gaze by applying white highlights of gouache above her eyes. Her tightly closed fingers convey the impression of a remote, imperturbable personality.