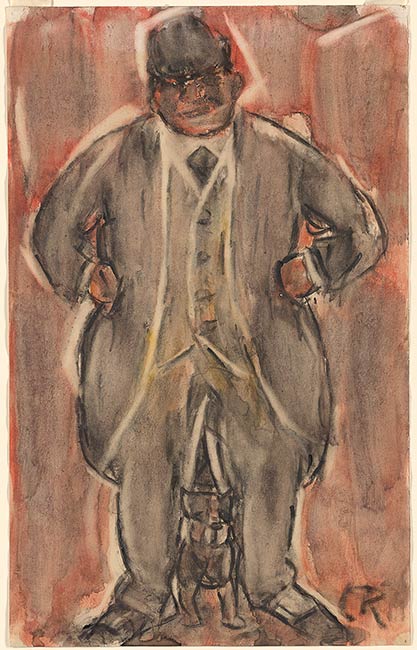 Portrait of a Man with a Dog
Watercolor and gouache on wove paper.
20 3/8 x 12 3/4 inches (51.8 x 32.3 cm)
Inscription:
Initialed at lower right, "C.R."
Provenance:
Count Harry Kessler; Pastor Hans Hartog; Galerie Fraenkel, Munich, from which acquired by private collection, New York, in 1968; from whom acquired by Fred Ebb, New York, ca. 1996.
Bibliography:
Dervaux, Isabelle. From Berlin to Broadway: the Ebb bequest of modern German and Austrian drawings. New York: Morgan Library & Museum, 2007, cat. no. 33, p. 76-79.
Notes:
Rohlfs was a generarion older than the expressionist artists with whom he was eventully associated. He began his career in the late nineteenth century as a painter of realist landscapes in the plein-air tradition. His discovery of Van Gogh, Munch, and Nolde prompted Rohlfs to adopt brighter colors and more gestural brushwork. He began to create his most significant works and to participate in avant-garde exhibitions around 1910, when he was more than sixty years old. The ethereal effects he achieved in transforming color into light led him to be called "the lyrical poet among the expressionists." Around the time of the First World War, he abandoned landscapes in favor of figure compositions, often symbolic or religoius in content. He also produced work in a lighter mood, such as this portrait of a man with a dog. Although the inscription on the back of the sheet identifies the subject as Count Harry Kessler, a prominent collector and patron, the bulky figure in the drawing hardly resembles the elegant figure of Kessler as he is known in photographs and portraits. It is possible that instead, Kessler owned this work. Rohlfs created a humorous contrast between the robust man and his small dog, both of whom confront the viewer directly. The brown ochre tone of the drawing is enlivened by the application of white surrounding the imposing figure and underlining some of the contours.