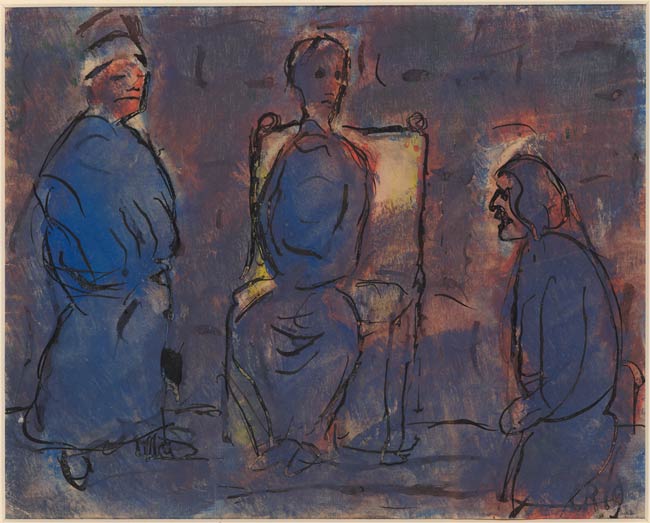 Gouache and pen and ink on laid paper.
8 1/2 x 10 5/8 inches (21.6 x 26.9 cm)
Inscription:
Initialed and dated at lower right with initials, "C.R.19.".
Provenance:
Galerie Nierendorf, Berlin; from which acquired by Fred Ebb, New York, in 1970.
Notes:
Rohlfs was a generarion older than the expressionist artists with whom he was eventully associated. He began his career in the late nineteenth century as a painter of realist landscapes in the plein-air tradition. His discovery of Van Gogh, Munch, and Nolde prompted Rohlfs to adopt brighter colors and more gestural brushwork. He began to create his most significant works and to participate in avant-garde exhibitions around 1910, when he was more than sixty years old. The ethereal effects he achieved in transforming color into light led him to be called "the lyrical poet among the expressionists." Around the time of the First World War, he abandoned landscapes in favor of figure compositions, often symbolic or religoius in content. The subject of this sheet is unclear, but it is likely a religious scene, with a central figure sitting on what appears to be a throne. Dated 1919, it is characteristic of Rohlfs's postwar art in its loose handling and deep tonalities of dark blue and red. The figures are defined by a fluid contour line in black ink. Areas of brighter color, notably around the heads, illuminate the scene, creating a shimmering effect that evokes a stained-glass window.