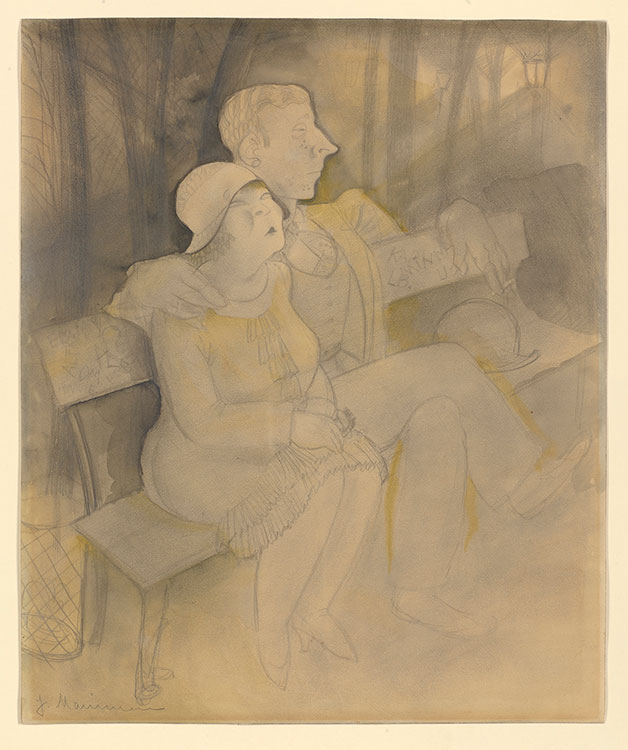 Graphite pencil and watercolor on wove paper.
17 x 14 1/8 inches (43.2 x 35.8 cm)
Inscription:
Signed at lower left, "J. Mammen".
Provenance:
Galerie Welz, Salzburg; Galerie Brockstedt, Hamburg; Galerie La Boetie, Inc., New York; from which acquired by Fred Ebb, New York, in 1972.
Notes:
Mammen was a major graphic artist of the Weimar period. She gained recognition in particular for her watercolors of urban subjects, such as this one of a couple seated on a park bench. Some of her illustrations have the gentle irony of cartoons. In this watercolor, published in "Simplicissimus" in 1930, the two young lovers are dressed in their Sunday best. The somewhat cynical caption alludes to the importance of city parks as meeting places for couples in the summer: "You know Emil, the greatest magic of summer is this: in matters of love, one is no longer dependent on those gentlemen who live in an open-house situation!" The succession of lovers who have met on the bench is evoked by the initials carved on it. Although the man has his arm on the woman's shoulder, their stiff pose expresses indifference and estrangement rather than affection, a characteristic of Mammen's depictions of heterosexual couples. Mammen's career as an illustrator ended in 1933 when the Nazis took power, and she turned to painting.