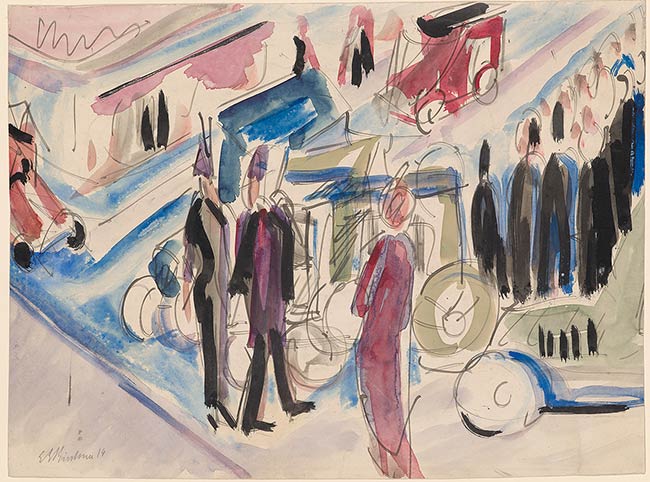 India ink, watercolor, gouache and reed pen on paper.
12 3/8 x 16 1/2 inches (31.3 x 42 cm)
Inscription:
Signed and dated at lower left in graphite pencil, "E. Kirchner 14"; verso: Estate stamp at lower left corner, partially obliterated.
Provenance:
Estate of the artist; Galerie Nierendorf, Berlin; Stefan Lennert; Helios Gallery, New York; from which acquired by Fred Ebb, New York, in 1977.
Notes:
"I must draw at speeds close to racing, just draw," wrote Kirchner, a leading figure of the Brücke (Bridge) group of German Expressionist artists. "Then after a time select what is good." The execution of this watercolor inspired by Berlin's streets conveys the fast pace and transience of modern urban life. All the faceless figures look alike. Although the swift strokes of the pen and free handling of watercolors preserve the spontaneity of a drawing made from life, the careful arrangement of the groups of figures and cars at this busy intersection suggests a planned composition rather than a quick recording of visual impressions.