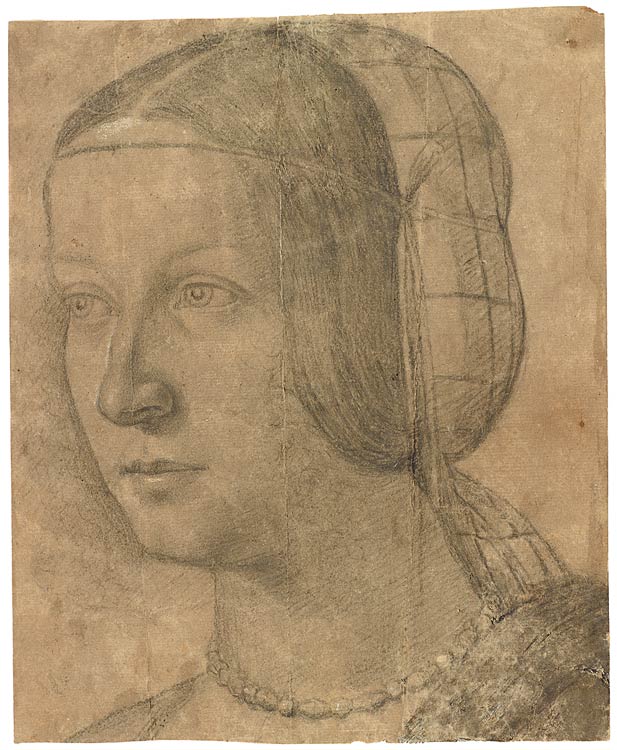 Portrait of a Woman with Hairnet
Black chalk, with white chalk, on paper. Lined.
8 13/16 x 7 1/4 inches (223 x 185 mm)
Inscription:
Inscribed on fragments of old mount in pencil, "Mailandisch. Meister.; (? Bartol. Veneto?) / M. v.; 5". Stamped on fragment of old mount, "27".
Provenance:
H.P. Kraus (1907-1988), Vienna and New York.
Description:
The drawing entered the Morgan's collection as by an anonymous artist of the Italian school. Clearly North Italian and probably from the first quarter of the sixteenth century, its origins lie in the Venetic-Lombard portrait tradition as represented by such artists as Giovanni Bellini (ca. 1431/36-1516); Francesco Bonsignori (ca. 1460-1519); Lorenzo Lotto (ca. 1480-1556) and Bartolomeo Veneto (active 1502-1531).
The headdress of the sitter resembles that of Leonardo's Louvre Portrait of a Woman, known as La Belle Ferronière, of the 1490s, which was much studied.1 The material draped over the left shoulder of the Morgan sitter may well be fur – it seems too large to be a detachable sleeve, which was fashionable at the time. The headband or lenza and the hairnet were fashionable in northern Italy in the first decade of the Cinquecento. In portrait type, the drawing fits well with the work of Bartolomeo Veneto, who is known as a fashionable portraitist, said to be a pupil of Gentile Bellini (ca. 1429-1507), and clearly strongly influenced by Giovanni Bellini (ca. 1431/6-1516). No certain drawings by Bartolomeo Veneto are known, though a drawn portrait of a man in the Albertina has variously been attributed to him, as has another in the Galleria Estense, Modena, which is quite comparable to the present drawing.2
Footnotes:
Louvre, Paris, inv. 778.
Albertina, Vienna, inv. 1452; Galleria Estense, Modena, inv. 861.
Notes:
Attributed by H.P. Kraus to Milano Master (Bartolomeo Veneto?). Acquired as Italian school.
Watermark: none.
Associated names:
Bartolomeo Veneto, -1531, possible attribution.
Kraus, Hans Peter, 1907-1988, former owner.