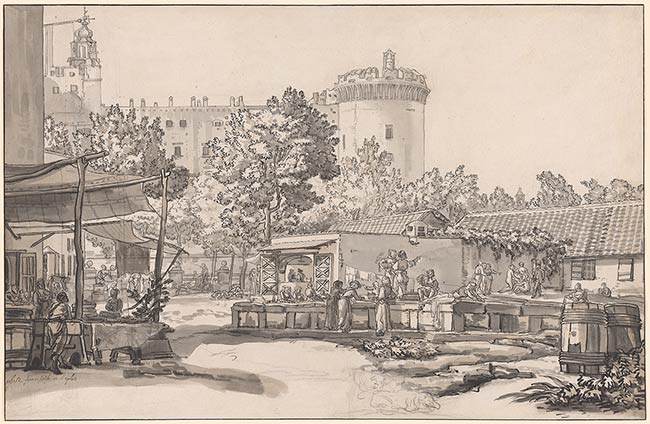 View of the Place Francaise and the Castel Nuovo in Naples
Pen and black ink and wash on paper.
16 x 24 5/8 inches (405 x 625 mm)
Purchased on the Edwin H. Herzog Fund.
Inscription:
Inscribed at lower left, "place francaise a Naples".
Provenance:
Thomas Le Claire, Kunsthandel, Hamburg.
Notes:
After being trained in France, Joseph Vernet went to Rome, staying in Italy for twenty years, where he developed an important clientele around the French Academy. He specialized in landscape and especially marine painting, often relying on the theme of the rising and setting sun and moonlight. Agree at the Academie royale in 1745, Vernet regularly exhibited at the Salon between 1746 and 1789. His friendship with the Marquis de Vandieres, the future Marquis de Marigny, helped him to obtain the commission for the series Ports de France, which kept him occupied for almost ten years, between 1753 and 1762. When he returned to France he produced a large number of works for nature lovers. Drawing was an important aspect of Vernet's work. Over seven hundred drawings, most in black and brown ink and a number in graphite, were sold when his workshop was dispersed in 1790. This drawing belongs to a series executed in Naples around 1750. About twenty works of similar technique and style, from the collections of the Emperors of Austria, are now in the Albertina. The Palace di Donn' Anna, the Baia Castle, and the View of Cap Misente are among the best of this series and are the closest in style to the present work. It represents the French square in Naples, a short distance from the Castel Nuovo, the fortress erected by the Normans