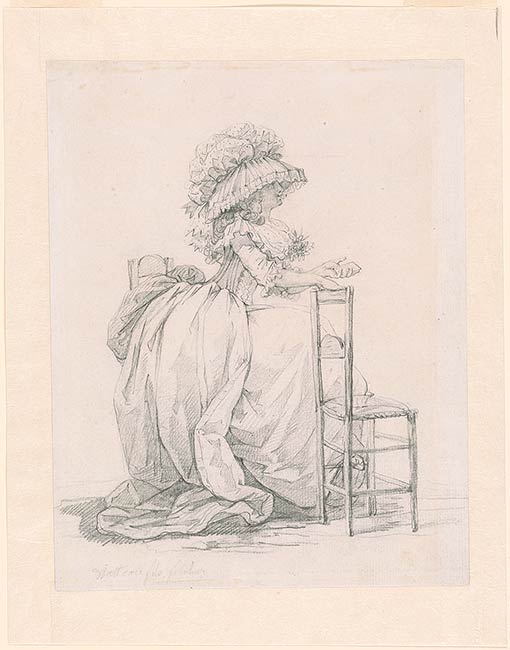 An Elegant Woman Seated in Profile Holding a Card
10 9/16 x 8 1/4 inches (268 x 209 mm)
Gift of Charles Ryskamp in memory of Mrs. Charles W. Engelhard, Trustee, 1974 to 1986, Trustee Emerita, 1986 to 2004.
Inscription:
Signed in pencil, at lower left, "Watteau fils fecit".
Provenance:
G. Mühlbacher (d. 1906), Paris; his sale, Paris, Galerie Georges Petit, 15-18 May 1899, part of lot 314; W. M. Brady and Co., New York; Charles Ryskamp, Princeton and New York.
Bibliography:
Gaëtane Maës, Les Watteau de Lille: Louis Watteau (1731-1798), Francois Watteau (1758-1823), Paris, 1998, p. 418, under no. FD25.
The World Observed: Five Centuries of Drawings from the Collection of Charles Ryskamp, New York: The Pierpont Morgan Library, 2001, no. 32, repr. in color.
Notes:
Watermark: shield surmounted by crown.
This is the Library's first drawing by Watteau de Lille, son and student of the painter Louis Watteau, himself a nephew of the great rococo artist Antoine. After studying in Paris he returned to Lille, succeeding his father as director of the city's school of drawing and eventually becoming assistant curator of the Musě des Beaux-Arts, Lille. The drawing is a study for an illustration in the Galerie des modes et costumes franȧis, published in 1787. The Galerie is considered the first publication devoted exclusively to fashion and was illustrated with 445 plates engraved after drawings by such artists as Pierre-Thomas Leclerc and Augustin de Saint-Aubin. Between 1784 and 1787 Watteau contributed 118 illustrations for which fewer than 30 drawings survive.
Associated names:
Mühlbacher, G., d.1906, former owner.
Ryskamp, Charles, former owner.