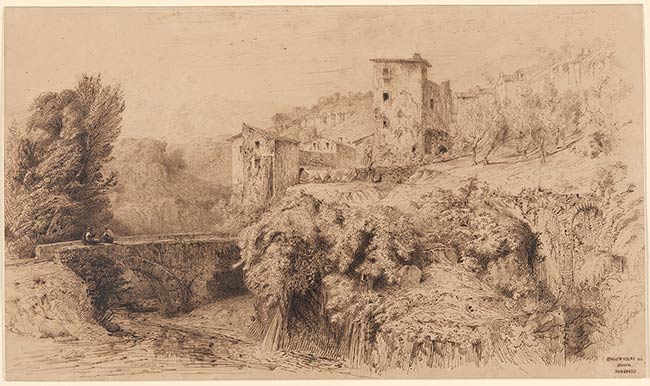 9 13/16 x 17 inches (252 x 430 mm)
Purchased on the Ryskamp Fund.
Inscription:
Inscribed by the artist at lower right, "CONTORNI DI / ROMA / MARINO".
Provenance:
From the wedding album presented to Duke Antoine de Montpensier and Marie-Louise Fernande de Bourbon by the Orleans Family on 10 October 1846; their daughter, Isabelle d'Orleans; Amelie, Queen of Portugal; by descent to Comte et Comtesse de Paris; private collection; James Faber Ltd., London.
Notes:
Although Huet studied briefly with Pierre Guerin, he was in the studio of Baron Gros considerably longer (between 1819 and 1833), where he met the English landscape artist Richard Parkes Bonington, who was to become his major artistic influence. The two artists often went sketching in Normandy, including Les Andelys, the birthplace of Nicolas Poussin. In 1824 Huet discovered the landscapes of John Constable, and his own work began to show a new sensitivity to the subject. A close friend of Delacroix, Huet is considered a major innovator in the depiction of landscape in a Romantic vein. Especially adept at painting in watercolor, he is credited primarily with interpreting variations in atmosphere, especially the moods of nature. He exercised a great influence on the Barbizon and Impressionist schools of painting.
Huet traveled extensively in Italy from 1841 to 1843, but he never took up the serene Italian landscape as a subject. By nature a Romantic, he always preferred the moody -- often stormy -- skies of France. In addition to his oils and watercolors, he worked in wood engraving and lithography, notable for his illustrations to the Baron Taylor and Charles Nodier's Voyages pittoresques, published in 1831.
The very detailed pen work in the present drawing is close to Huet's style as a printmaker. It was executed around 1845 just before the marriage of the Duc de Montpensier and Marie-Louise Fernand de Bourbon, and was included in the wedding album presented to the couple by the Orléans Family. It is interesting to note in this connection that Huet was the drawing master of the Duchesse d'Orléans.