David and Goliath. Verso: Ruled Architectural Studies
Black chalk on paper; verso: black chalk.
2 1/16 x 3 1/4 inches (52 x 82 mm)
Purchased by Pierpont Morgan (1837-1913) in 1909.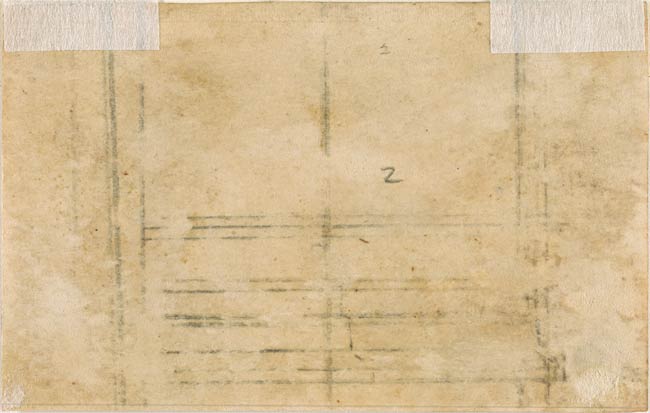 Inscription:
Inscribed on verso, in graphite, "2".
Provenance:
Probably Daniele da Volterra (1509-1566), Rome; Jacopo Rocchetti (1592-1605), Rome; possibly Giuseppe Cesari (1568-1640), Rome; Cicciaporci family and by descent to Filippo Cicciaporci (1687-1760), Florence and Rome; Sir Joshua Reynolds, (1723-1792, Lugt 2364), London; John Campbell, 2nd Marquess of Breadalbane (1796-1862), London; his sale, Christie's, London, 4 June 1886, lot 171; Frederick, Lord Leighton (1830-1896), London; his sale, Christie's, London, 16 July 1896, lot 44; Colnaghi, London; Charles Fairfax Murray (1849-1919), London and Florence; from whom purchased in London in 1910 by J. Pierpont Morgan (1837-1913; no mark; see Lugt 1509), New York; J. P. Morgan, Jr. (1867-1943), New York..
Description:
Vasari tells of a commission for a sculptural model and subsequent painting of David Slaying Goliath that went to Michelangelo's friend and pupil Daniele da Volterra in Rome during the 1550s:
The Florentine Monsignor Giovanni Della Casa, a man of great learning [ . . . ], having begun to write a treatise on the matters of painting, and wishing to enlighten himself as to certain minute particulars with the help of men of the profession, commissioned Daniello [da Volterra] to make with all possible care a finished model of a David in clay. And then he caused him to paint, or rather, to copy in a picture, the same David, which is very beautiful, from either side, both the front and the back, which was a fanciful notion.1
Whereas Daniele's clay model is no longer extant, the double-sided painting of David Slaying Goliath, executed in oil on slate and showing more or less the same figural group from the front and back, now forms part of the collection of the Louvre, Paris.2
It was Thode who first noted that Daniele took as his point of departure the four sketches by Michelangelo now in the Morgan, which the great master presumably had created for this particular purpose. In all likelihood the two artists met while at work in the Vatican in the 1540s. By the end of that decade, they were close enough for Michelangelo to support Daniele's bids for several prestigious commissions. The David and Goliath was the first of five paintings commissioned by Giovanni Della Casa from Daniele, and Michelangelo demonstrably provided drawings for three of them.3 All of these commissions are usually dated between Della Casa's return to Rome in June 1555 and his death in November 1556. He is also recorded as having briefly visited Rome in 1550–51, however, and the inception of the David and Goliath could have been at this earlier moment.4
Despite their tiny format, the sureness of execution of these rapid compositional sketches has always marked them unquestionably as autograph works. Michelangelo had treated the subject earlier in one of the spandrels of the Sistine Chapel in a somewhat similar fashion, with David straddling the prostrate figure of Goliath, who, however, is shown lying facedown. The initial ideas for the Della Casa project are probably those on a sheet in the Ashmolean, where Michelangelo seemingly recalled his earlier sketch for a Samson and Delilah.5 In the Morgan sketches, Michelangelo placed and then turned the figures somewhat obliquely in space so that the quick sfumato notations provide a maximum of visual information for the design of a clay model. Daniele made additional drawings for the project himself.6
Even though it has not yet been possible to align the architectural studies on the versos, all four drawings probably once formed part of a single sheet of paper. They must, however, have been separate since the days of Sir Joshua Reynolds, whose collector's mark may be discerned at the lower left of each sketch.
—REP
Footnotes:
Vasari 1996, 2:592; Vasari 1878–85, 7:61.
Musée du Louvre, Paris.
Treves 2001, passim. See also New York 2017–18, 232–37. The Della Casa paintings recorded by Vasari comprise Aeneas Commanded by Mercury to Abandon Dido, a Pietà, a St. John, and a St. Jerome.
Treves 2001, 39, and note 32. Bambach, in New York 2017–18, 233, suggests that the David and Goliath was begun in 1550–51.
See Bambach in New York 2017–18, 233, where Ashmolean Museum, Oxford, inv. 1846.74, is illustrated as no. 212.
British Museum, London, inv. 1956,1013.14 and 1976,0515.2; Gabinetto Disegni e Stampe degli Uffizi, Florence, inv. 14965f; Musée du Louvre, Paris, inv. 1512 and 1513.
Bibliography:
Rhoda Eitel-Porter and and John Marciari, Italian Renaissance Drawings at the Morgan Library & Museum, New York, 2019, no. 104.
Selected references: Thode 1902-13, 2:444-45; Berenson 1938, no. 1544E; Dussler 1959, no. 188; Hartt 1970, no. 463 (erroneously as no. 453); Tolnay 1975-80, 2: under no. 297, 3: nos. 370-73; Hirst 1988, 39; Perrig 1991, 103, 146n14; Montreal 1992, nos. 136-39; Thomas 2001, 49-50; Treves 2001, 39; Florence 2003-4, 44, 122-23; Chapman 2005, 265; New York 2006, no. 10; Acidini Luchinat 2007, no. 90; Zöllner, Thoenes, and Pöpper 2007, 754; New York 2017-18, 234-37 and nos. 213-16.
Collection J. Pierpont Morgan : Drawings by the Old Masters Formed by C. Fairfax Murray. London : Privately printed, 1905-1912, I, no. 32, repr.
Notes:
See also group level record for I, 32a-d (Bib ID: 142150), and records for individual sheets.
All four drawings, I, 32a-d, once formed a single sheet. They were separated sometime since the death of Sir Joshua Reynolds, the painter and collector whose mark (the letters SR [R superscript] I R in a square) may be discerned in the lower left of each sketch. Michelangelo had earlier treated the subject in one of the spandrels of the Sistine Chapel.
Watermark: none.
Associated names:
Daniele, da Volterra, approximately 1509-1566, former owner.
Rocchetti, Jacopo, 1592-1605, former owner.
Cesari, Giuseppe, 1568-1640, former owner.
Cicciaporci, Filippo, 1687-1760, former owner.
Reynolds, Joshua, Sir, 1723-1792, former owner.
Breadalbane, John Campbell, Marquis of, 1796-1862, former owner.
Leighton of Stretton, Frederic Leighton, Baron, 1830-1896, former owner.
Murray, Charles Fairfax, 1849-1919, former owner.
Morgan, J. Pierpont (John Pierpont), 1837-1913, former owner.
Morgan, J. P. (John Pierpont), 1867-1943, former owner.