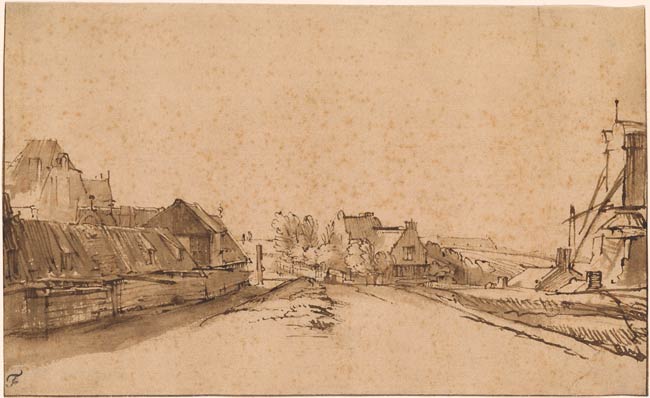 Rembrandt Harmenszoon van Rijn
The Bulwark De Rose and the Windmill De Smeerpot, Amsterdam
Pen and brown ink and wash.
5 1/4 x 8 5/8 inches (134 x 218 mm)
Exhibition label:
Rembrandt's many landscape drawings chronicle his walks in and around Amsterdam. Their topographical accuracy often makes it possible to identify the exact spot where they were drawn. This sheet was made on the elevated defensive rampart of the city. Only the rooftops of certain houses to the right are visible. The windmill whimsically called the Smeerpot (Grease Pot) faces away from the rampart at right, while at left Rembrandt depicted a long row of low buildings that served as a rope factory.
Inscription:
Numbered on verso in graphite at lower center, "51 HoleG. 845".
Provenance:
N.A. Flink, Rotterdam (Lugt 959), ca. 1660; William Cavendish, second or third duke of Devonshire, Chatsworth House, Derbyshire, 1723 or 1754; by descent within the family; Trustees of the Chatsworth Settlement (inv. no. 1031); their sale, London, Christie's, 3 July 1984, lot 65, repr. in color (to Richard Day Ltd. for Currier); Michael S. Currier, Santa Fe, 1984; his sale, New York, Christie's 28 January 2000, lot 114, repr. in color; Eugene V. and Clare E. Thaw, New York.
Description:
One of Rembrandt's finest landscape drawings, this sheet belongs to a group of twenty-seven views by the artist that were made along the Amstel River and chronicle his walks along the Amsterdam city walls. It documents a panoramic view from the top of the Amsterdam city wall, leading to a dramatic convergence of the earthen ramparts at the center of the page. To the right is an old-fashioned mill, popularly called the Grease Pot (Smeerpot), that was used to grind wheat and rye.
Bibliography:
Thaw Catalogue Raisonné, 2017, no. 324, repr.
The Thaw Collection : Master Drawings and Oil Sketches : Acquisitions since 1994. New York : Pierpont Morgan Library, 2002, no. 6, repr.
From Leonardo to Pollock: Master drawings from the Morgan Library. New York: Morgan Library, 2006, cat. no. 44, p. 96-97.
100 Master drawings from the Morgan Library & Museum. München : Hirmer, 2008, no. 56, repr. [Jennifer Tonkovich and Jane Shoaf Turner]
Notes:
Watermark: fragment of an orb surmounted by three crosses.