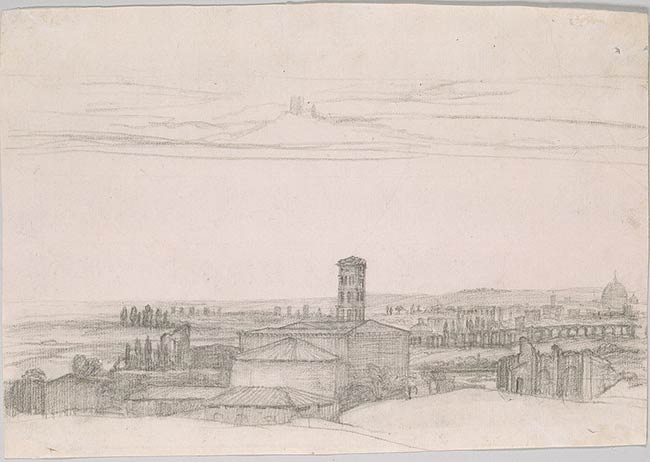 View of Rome from S. Croce in Gerusalemme
7 3/16 x 10 5/16 inches (182 x 262 mm)
Provenance:
Prince Don Livio Odescalchi (1652-1713), Rome (in an album listed in his 1713 inventory as "Altro libro in foglio coperto di carta pecora con ottant'uno disegni di Claudio Gellé Lorenese"); by descent to Donato Sanminiatelli (1929-1979) and Maria Odescalchi (b. 1930), Rome; album sold to Georges Wildenstein, 1960; album acquired and dismembered by Norton Simon, Pasadena, 1968; Eugene V. and Clare E. Thaw, New York.
Bibliography:
Thaw Catalogue Raisonné, 2017, no. 240, repr.
The Thaw Collection : Master Drawings and Oil Sketches : Acquisitions since 1994. New York : Pierpont Morgan Library, 2002, no. 10, repr.
Roethlisberger, Marcel, Claude Lorrain. The Drawings, 1968, no. 449.
Notes:
Part of the Tivoli sketchbook; landscape.
According to his biographer and friend Joachim von Sandrart, Claude spent his days drawing and painting in the open air. Most of his drawings are pure landscapes, and this panoramic view of Rome is a rare example depicting the city's architecture. On what was probably a sketchbook page, Claude delineated two different vantages. The upper part of the sheet contains an undulating view of the Roman campagna while the rest of the page is occupied by a precise description of Rome as seen from the Esquiline Hill, showing the apse of S. Croce in Gerusalemme and the adjacent ruins of the ancient Sessorium and Amphitheatrum Castrense; the dome of St. Peter's is in the distance at far right. -- Exhibition Label, From "Poussin, Claude, and French Drawing in the Classical Age"
Associated names:
Odescalchi, Livio, Don, Prince, former owner.
Wildenstein, Georges, former owner.
Simon, Norton, 1907-1993, former owner.
Thaw, Eugene Victor, former owner.
Thaw, Clare, former owner.