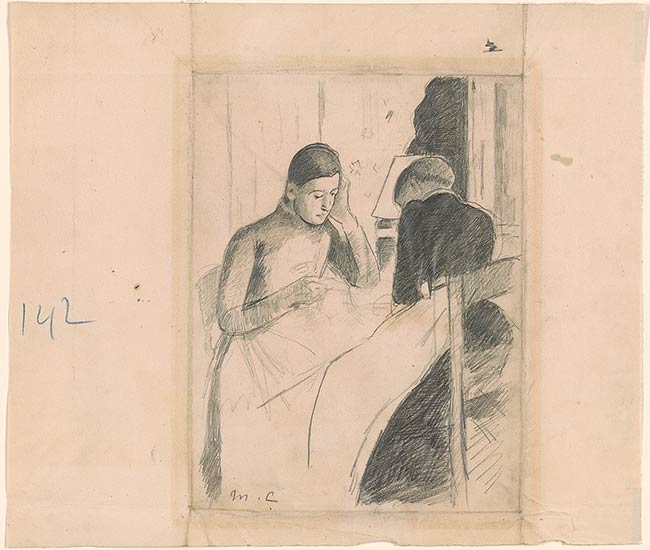 Sewing by Lamplight. Verso: Offset of soft-ground
Graphite. Offset of soft ground etching on verso of paper.
sheet: 9 13/16 x 11 7/16 inches (250 x 291 mm) design area: 7 7/8 x 5 15/16 inches (202 x 151 mm)
Inscription:
Signed with initials at lower left: M.C; inscribed in blue crayon at left edge: 142.
Provenance:
The artist's studio; Ambroise Vollard, Paris, ca. 1904-1906; by descent to his heirs; Henri M. Petiet, Paris; by descent to his heirs; private collection, New York; Marc Rosen Fine Art, Ltd., New York; Eugene V. and Clare E. Thaw, New York; Eugene Victor Thaw Art Foundation.
Bibliography:
Thaw Catalogue Raisonné, 2017, no. 37, repr.
The Thaw Collection : Master Drawings and Oil Sketches : Acquisitions since 1994. New York : Pierpont Morgan Library, 2002, no. 55.
Breeskin, Adelyn D. Mary Cassatt: A Catalogue Raisonné of the Oils, Pastels, Watercolors, and Drawings. Washington, D.C.: Smithsonian Institution Press, 1970, no. 768, p. 263, repr.
Notes:
Mary Cassatt was one of the most innovative printmakers of her time. She was initially resistant to drawing and produced very few preparatory studies for paintings. But by the start of the 1880s Cassatt began to embrace drawing as part of her process creating prints. Her etchings from this period were highly experimental, and, with few exceptions, created in small runs and not publicly exhibited. This drawing was executed in preparation for such a work, a soft-ground etching, which was made by drawing in pencil on a sheet of paper placed on top of a thick, sticky wax coating applied to a copper plate. The result was an etching with a single state, and in this case, only a single known impression, which is also in the Morgan's collection (inv. no. 2001.47). The drawing retains visible markers of Cassatt's process including creases from being folded over the plate and an offset image of the soft-ground preserved on the verso of the sheet, which indicates Cassatt used the drawing to transfer the design directly onto the plate.
In 1880 Cassatt's mother and her sister Lydia, who was suffering from chronic kidney disease, left Pennsylvania to live with Cassatt in Paris. Over the next two years Cassatt increasingly depicted domestic life and tasks using her family and close friends as subjects. The sombre mood found in the etchings from this period may reflect the atmosphere at Cassatt's home as Lydia's disease progressed. The models for the women in this scene may be the family's maid Mathilde Valet, or Valet's cousin Susan, and possibly Cassat's sister Lydia, shortly before her death in 1882.
Associated names:
Vollard, Ambroise, 1867-1939, former owner.
Petiet, Henri M., former owner.
Thaw, Eugene Victor, former owner.
Thaw, Clare, former owner.