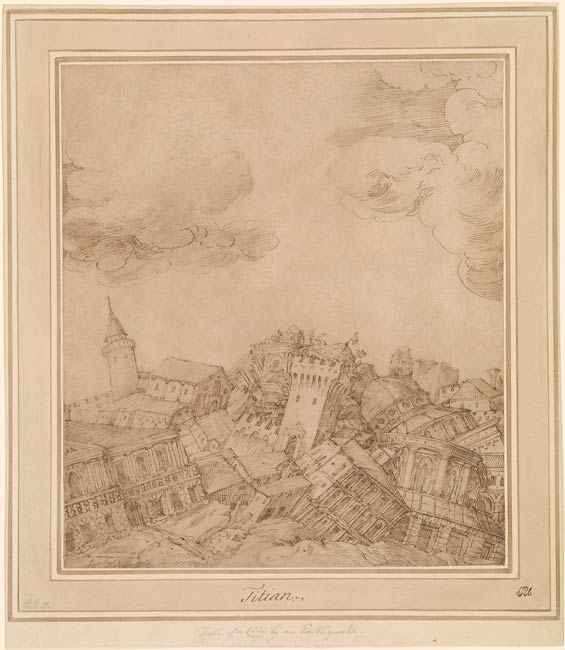 Apocalyptic Scene with Fallen Buildings
11 5/8 x 10 1/4 inches (296 x 259 mm)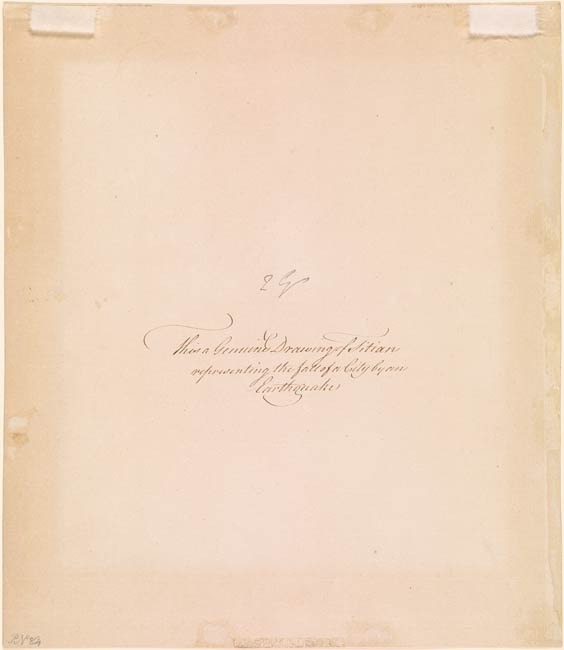 Inscription:
Inscribed on the mount in Udny's hand, "Titian"; in Esdaile's hand, "Fall of a City by an Earthquake"; on verso, in Udny's hand, "This a Genuine Drawing of Titian / representing the fall of a City by an / Earthquake".
Provenance:
Robert Udny (1722-1802), London and Teddington, Middlesex (Lugt 2248; his mount); William Esdaile (1758-1837), Clapham Common, London (Lugt 2617); his sale, London, Christie's, 20 June 1840, lot 421, as Titian ("A subject from the Apocalypse, a pen and bistre; from Udney's collection"); sale, London, Christie's, 11-13 December 1985, lot 178, repr. in color as Campagnola; private collection, Boston, 2000; Thomas Williams Fine Art Ltd., London, 2000; Eugene V. and Claire E. Thaw, New York and Santa Fe.
Description:
Domenico Campagnola was born about 1500, probably in Venice. By the age of ten he seems already to have been apprenticed to (and evidently adopted by) the Paduan painter, draftsman, printmaker, and miniaturist Giulio Campagnola - a somewhat elusive figure then working in Venice, whose significance in the context of Venetian landscape draftsmanship, is nonetheless considerable. Domenico Campagnola possessed precocious talent and by 1517 he was the foremost engraver in Venice, having also produced numerous woodcuts. His early drawings naturally reveal a profound debt to the work of Giulio Campagnola, but they also reflect the direct influence of prints by Albrecht Dürer. Furthermore, Domenico was familiar with the painted and drawn work of Titian, to whom the Thaw drawing was once attributed, and may have been a pupil in the latter's studio. After moving to Padua about 1520, Domenico became the leading painter in the city. He is most celebrated for his numerous landscape studies, which were actively collected even in his lifetime and were to influence generations of draftsmen, from Girolamo Muziano, through Agostino and Annibale Carracci and their followers, to Antoine Watteau.
This sheet may well belong to the 1530s, when Domenico Campagnola's powers of invention and execution were at their peak. The subject is at first enigmatic. Crowded into the lower third of the sheet is a ruined townscape, void of all signs of human life, with several mediaeval and Renaissance buildings, such as a fortified tower at center, a basilica at upper left, a Renaissance palace with a rusticated lower floor below a balustraded balcony, and a domed rotunda reminiscent of Bramante's Tempietto in Rome at right. In the foreground the sinking town is washed by tempestuous waves. The drawing evidently represents an earthquake and is related to the series of twenty-two drawings by Domenico Campagnola with scenes from the Apocalypse preserved at Windsor Castle (Popham and Wilde 1949, nos. 161-182). Martin Clayton has noted that the Windsor Apocalypse and a number of other drawings by Campagnola that have been on the market in recent years (Colnaghi June-July 1982, no. 12 Fight of the Angels Against the Demons and the Woman Clothed With the Sun) are close copies of a fourteenth-century fresco cycle by Giusto de' Menabuoi in the apse of the Baptistery in Padua. Clayton further suggests that the Thaw drawing is a reinterpretation of Giusto's fresco of the Seventh Angel Emptying his Bowl with the Wrath of God which Causes a Great Earthquake that Divides the Great City (Babylon/Rome) into Three Parts (Revelation 16, 17-20). The corresponding fresco differs quite substantially from the Thaw sheet in depicting a flying angel emptying a cruet onto three distinct heaps of collapsing, rather simplified cubic houses below (Lievore 1994, 54, no. 35).
Bibliography:
Clayton 2004, 330; New York and Williamstown 2017-18, 42; Eitel-Porter and Marciari 2019, 54.
The Morgan Library & Museum, New York, NY, "Drawn to Greatness: Master Drawings from the Thaw Collection", 2017. Exh. cat., no. 32, repr.
The Thaw Collection : Master Drawings and Oil Sketches : Acquisitions since 1994. New York : Pierpont Morgan Library, 2002, no. 2, repr.
Notes:
Watermark: encircled mounts surmounted by a cross (?), similar to Briquet 11914.
A rare depiction of a passage from the Book of Revelation, this drawing represents the catastrophic aftermath of a devastating earthquake. It is part of a set of twenty-two sheets by Campagnola that were closely based on Giusto de' Menabuoi's Apocalypse fresco cycle painted during the fourteenth century in the Baptistery of Padua Cathedral. Campagnola updated the scenes: although most of the buildings were derived from the artist's imagination, some are partially based on well-known modern landmarks, such as Bramante's Tempietto in Rome, visible at the lower right. -- Exhibition Label, from "Drawn to Greatness: Master Drawings from the Thaw Collection"
Associated names:
Udny, Robert, 1722-1802, former owner.
Esdaile, William, 1758-1837, former owner.
Thaw, Eugene Victor, former owner.
Thaw, Clare, former owner.