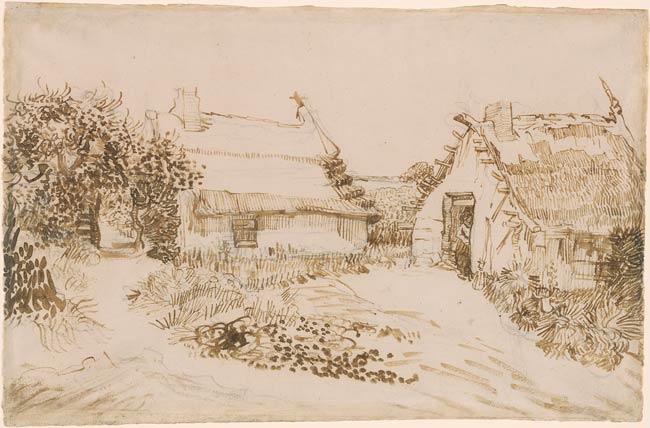 Two Cottages at Saintes-Maries-de-la-Mer
Reed pen and brown ink over graphite.
12 3/8 x 18 5/8 inches (315 x 473 mm)
Provenance:
Theo van Gogh (d. 1891), Paris; by descent to his son, Vincent Willem van Gogh (1890-1978), as part of Theo's collection administered by his widow, Johanna van Gogh-Bonger (1862-1925), Amsterdam; her youngest sister, Elisabeth Bonger (1870-1944), Amsterdam, by 1905; Professor Dr. J. Willem Mengelberg (1871-1951), Amsterdam; his sale, Amsterdam, Mak van Waay, 25 March 1952, lot 78; Mr. and Mrs. Louis Ritter, Scarsdale, New York; Ritter Foundation Inc., Scarsdale; sale, New York, Sotheby Parke Bernet, 25 October 1972, lot 29; Eli and Edythe L. Broad, Los Angeles; Acquavella Galleries, New York, by 1983; from whom acquired by Eugene V. and Clare E. Thaw, New York and Santa Fe.
Bibliography:
The Morgan Library & Museum, New York, NY, "Drawn to Greatness: Master Drawings from the Thaw Collection", 2017. Exh. cat., no. 165, repr.
Denison, Cara D. et al. Drawings from the Collection of Mr. and Mrs. Eugene Victor Thaw. Part II. New York : Pierpont Morgan Library, 1985, no. 53. (also in Thaw III, no. 92)
Denison, Cara D. et al. The Thaw Collection : Master Drawings and New Acquisitions. New York : Pierpont Morgan Library, 1994, no. 92.
De la Faille, J.-B.: The Works of Vincent van Gogh: His Paintings and Drawings. New York, 1970, cat. no. 1440.
Hulsker, J.: The Complete von Gogh: Paintings, Drawings, Sketches. Oxford and New York, 1980, cat. no. 1451.
Van Gogh in Arles. New York: The Metropolitan Museum of Art, 1984, pp. 83-92.
Van Gogh Drawings. Amsterdam and New York: Van Gogh Museum and The Metropolitan Museum of Art, 2005, cat. no. 48.
From Leonardo to Pollock: Master drawings from the Morgan Library. New York: Morgan Library, 2006, cat. no. 93, p. 194-195.
Notes:
After a harsh winter in Paris, van Gogh departed for Arles, a city along the Rhone in Provence, in February 1888. He remained in Arles until May of the following year. This fifteen-month sojourn was one of his most fruitful periods and is often considered the high point of his career. Here he lived in the "yellow house"--the studio that he hoped to share with his friend Gauguin--and spent his days exploring the surrounding countryside of Montmajour and La Crau and portraying local townsfolk, such as the postman Roulin, before entering the asylum at St.-Rémy in June 1889.
Van Gogh's longing to see the Mediterranean "at last" inspired a trip via horse-drawn carriage to the seaside fishing village of Saintes-Maries-de-la-Mer, which was 50 kilometers away from Arles (Letter to Theo van Gogh, 28 May 1888). The artist wrote to his brother Theo the evening prior to his departure on Wednesday, 30 May 1888, "I am taking especially whatever I need for drawing. I must draw a great deal, for the very reason you spoke of in your last letter. Things here have so much line. And I want to get my drawing more spontaneous, more exaggerated" (Letter to Theo van Gogh, 29 May 1888). Van Gogh likely remained at Saintes-Maries until Tuesday, 5 June, during which time he produced three paintings--two seascapes and a view of the town--and nine drawings. Upon his return to Arles, he dispatched five of the drawings to Theo, retaining four in his studio to serve as the basis for paintings. The present drawing was among those kept by van Gogh, although it was the only one not translated into oils. Van Gogh included sketches of three of the Saintes-Maries studio paintings, along with a small sketch of a lone cottage, in a letter to his young friend Émile Bernard (see MA 6441.6).
As van Gogh had hoped, the visit to Saintes-Maries sparked a new spontaneity in his drawings. This study of two thatched-roof cottages with a view of the sea in the distance was begun with a vigorous, freely drawn graphite sketch that the artist then articulated with thick strokes of a broad-nibbed reed pen, adding finer details with the tip of the reed. The brisk, energetic execution of the sheet may indicate that he made the drawing on site. The artist captured the glaring sunlight, reflected off the whitewashed roof at left and the effulgent spring foliage. The presence of a woman in the doorway of the cottage at right is unusual among van Gogh's drawings from Saintes-Maries and reminiscent of Rembrandt's subtle incorporation of figures into his landscapes with cottages. Although van Gogh's characterized some of his drawings from Saintes-Maries as "harsh" (Letter to Theo van Gogh, ca. 4 June 1888), the present study does not fall into this category. Another view of the same cottages, taken from a slightly more dramatic angle and including a third cottage at left (Van Gogh Museum, Amsterdam, d0161V1962), is more bluntly executed, and served as the basis for a painting (Kunsthaus, Zurich).
Associated names:
Gogh-Bonger, J., Mrs., former owner.
Bonger, E., Miss, former owner.
Mengelberg, Willem, former owner.
Ritter, Louis, former owner.
Ritter, Louis, Mrs., former owner.
Thaw, Eugene Victor, former owner.
Thaw, Clare, former owner.