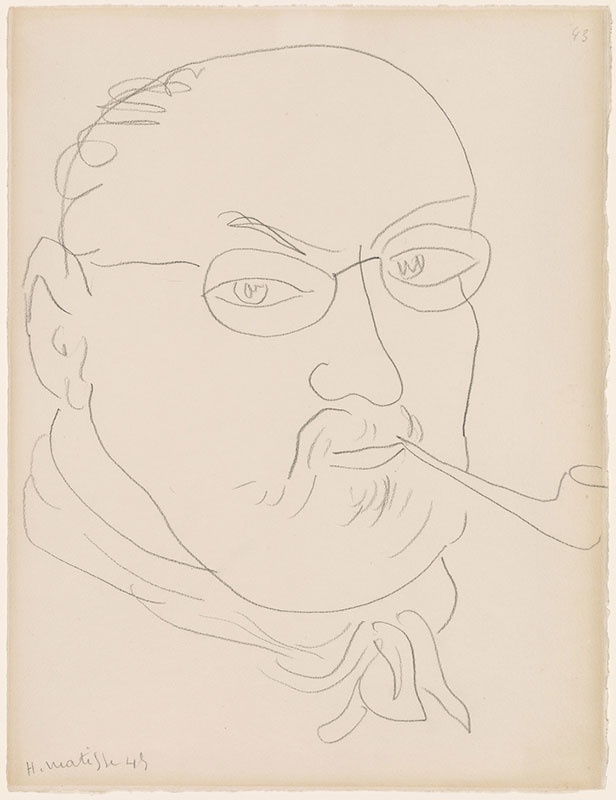 16 1/2 x 12 5/8 inches (419 x 320 mm)
Inscription:
Signed and dated at lower left, in conté crayon, "H. Matisse 45"; numbered at upper right corner, in pencil, "43".
Provenance:
Christian Tomasini, Paris (1980); Lionel Prejger, Paris; Heinz Berggruen, Paris; Acquavella Galleries, New York; Eugene V. and Clare E. Thaw, New York.
Notes:
Watermark: "ARCHES".
In 1939, Matisse wrote in "Notes of a Painter on his Drawing," "My line drawing is the purest and most direct translation of my emotion. The simplification of the medium allows that." Although he is best known for his boldly colored paintings, Matisse created drawings throughout his life, including pure line drawings, such as this one. The effortless appearance of the drawing belies the effort it required. As Matisse wrote, "The drawings are always preceded by studies made in a less rigorous medium than pure line, such as charcoal or stump drawing, which enables me to consider simultaneously the character of the model, the human expression, the quality of surrounding light, atmosphere and all that can only be expressed by drawing. And only when I feel drained by the effort, which may go on for several sessions, can I with a clear mind and without hesitation, give free rein to my pen."