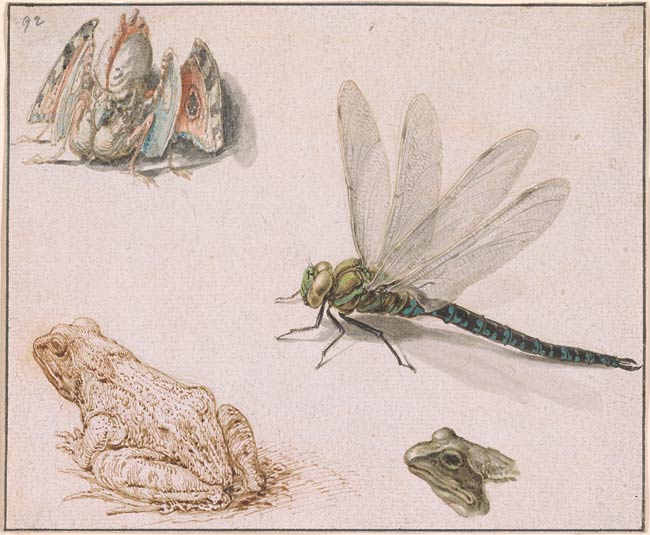 Studies of a Fantastic Bird, Toad, Frog, and Dragonfly
Pen and brown ink, watercolor, and opaque watercolor, over traces of metalpoint, on paper prepared with white ground.
4 1/2 x 5 1/2 inches (115 x 140 mm)
Inscription:
Numbered at upper left in graphite, "92"; inscribed on verso in pencil, "De Gyn / 1880"; on verso at lower left, "No 760."
Provenance:
Burgomaster De Vries (suggested by Van Regteren Altena); C. Ploos van Amstel (Lugt 2987); De Balliencourt, sold 1893, Paris (according to H. Mireur, Dictionnaire des vents d'art faites en France et en l' étranger pendant les XVIIIe et XIXe siècles, vol. 3, Paris, 1911, p. 300); E. Weyhe, Inc., New York; Charles Ryskmap, New York; Eugene V. and Clare E. Thaw, New York.
Bibliography:
The Morgan Library & Museum, New York, NY, "Drawn to Greatness: Master Drawings from the Thaw Collection", 2017. Exh. cat., no. 156, repr.
Denison, Cara D. et al. The Thaw Collection : Master Drawings and New Acquisitions. New York : Pierpont Morgan Library, 1994, no. 9.
Notes:
A gifted draftsman and engraver, Jacques de Gheyn II's first teacher was his father, a glass painter, miniaturist, and designer of prints. In 1585, after his father's death, de Gheyn entered the workshop of Hendrick Goltzius in Haarlem, remaining there five years before leaving to establish his own printmaking business, where he made prints after his own and other artists' designs. In 1595 he married into a wealthy family, achieving financial independence. He and his new wife settled in the university town of Leiden, where de Gheyn associated with some of the leading humanists and scientists of the day. By 1603 they had moved to The Hague, the artist's home until his death. De Gheyn's patrons in The Hague included Prince Maurice of Orange-Nassau and his court. Around 1600 emperor Rudolf II of Prague also collected his work. At about this time de Gheyn abandoned engraving in favor of painting. Only some twenty works in oil have survived, but hundreds of drawings have come down to us. They account for his reputation as one of the greatest Netherlandish masters and among the most important transitional figures between the late Renaissance and the seventeenth century in Holland. The Thaw drawing joins six others by the artist in the Morgan's collection which together represent the range of de Gheyn's production: an early religious subject showing the stylistic influence of his master, Hendrick Goltzius, "St. Mary Magdalene Seated, Adoring the Cross"; a meticulous pen and wash drawing of about 1597 commissioned by Count Johan II of Nassau, "A Soldier Preparing to Load His Caliver," which served as the model for a print in the influential weapons manual, "Maniement d'armes"; a work displaying the fluid pen line characteristic of his late drawings, "Design for a Garden Grotto," a study for the court garden of the palace at The Hague; a richly detailed brush and wash portrait of Prince Maurice for an engraving of 1623; a sweeping panoramic mountain landscape recalling the tradition of Pieter Bruegel the Elder; and a group of pen and wash studies of grotesque heads displaying his attraction for the fantastic and macabre. De Gheyn also made natural history drawings, and the Thaw sheet is the first such work by the artist to enter the Morgan's collection and one of the earliest of this type in the collection. While living in Leiden, de Gheyn studied and made drawings after the university's collection of naturalia, executed with a precision that reflected his training as an engraver. Many of his drawings of flowers and animals were incorporated into his paintings, while others were made as self-contained works of art, such as the album of drawings in watercolor and gouache on vellum of flowers and insects that was acquired by Rudolf II and today is in the Frits Lugt Collection, Paris. The Thaw drawing is not entirely a natural history study, however. There is the minutely observed dragonfly, executed in gouache and watercolor, and pen and brown ink over metalpoint. The carefully drawn head of the frog at lower right, rendered in watercolor, also displays a close study of its subject. The frog at lower left, in pen and brown ink over traces of metalpoint, is a quick sketch executed with the artist's characteristic sureness of touch. And at upper left, in watercolor over black chalk, is a creature of pure fantasy--a four-winged, four-legged bird. The mix of techniques in this drawing--indeed, the mix of subjects--suggests it was not made in the preparation of a print. De Gheyn may have begun the sheet with the dragonfly, whose bravura execution mark it as a finished work of art in its own right. He may then have drawn the two frog studies and finally the fantastic bird, turning the sheet into a kind of sampler of his repertoire to be shown to a patron.
Associated names:
De Vries, Burgomaster, former owner.
Ploos van Amstel, Cornelis, 1726-1798, former owner.
De Balliencourt, former owner.
Thaw, Eugene Victor, former owner.
Thaw, Clare, former owner.