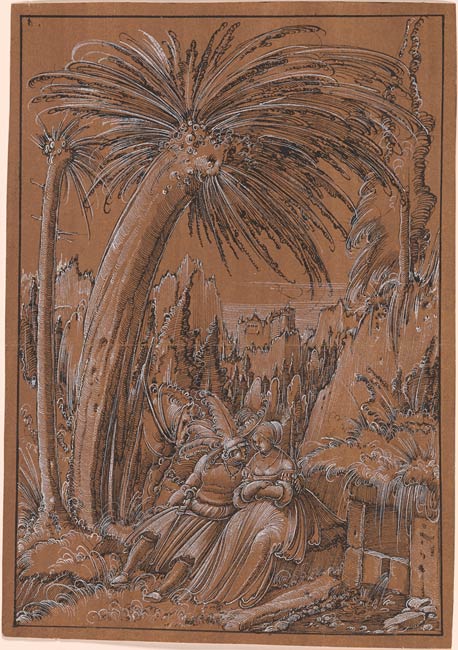 Two Lovers by a Fountain in a Landscape
Pen and black ink and white opaque watercolor on brown prepared paper.
6 3/8 x 4 5/8 inches (168 x 119 mm)
Exhibition label:
The luxurious enhancement of this drawing, with pen and ink and opaque white watercolor on an embellished ground, suggests that it was made as an autonomous work rather than as a preparatory study for a painting. It was probably made to be given or sold to collectors.


The drawing depicts a profane subject: the encounter of a pair of lovers who sit beside a small fountain from which water flows into a streamlet. Their horse is tethered to the splintered trunk of a tree; in the distance, behind the dense wood, is a castle flanked by a craggy range of mountains.
Provenance:
Christian von Mechel; Peter Vischer, Basel ca. 1800; Daniel burckhardt Wildt, Basel ca. (1806); Daniel Burckhardt-Wert[h]emann, Basel; by inheritance to a private owner, Basel; Claude Kuhn, Basel; negotiated sale, London, Sotheby's; Eugene V. and Clare E. Thaw, New York.
Bibliography:
Thaw Catalogue Raisonné, 2017, no. 1, repr.
Denison, Cara D. et al. The Thaw Collection : Master Drawings and New Acquisitions. New York : Pierpont Morgan Library, 1994, no. 6.
From Leonardo to Pollock: Master drawings from the Morgan Library. New York: Morgan Library, 2006, cat. no. 54, p. 116-117.
100 Master drawings from the Morgan Library & Museum. München : Hirmer, 2008, no. 67, repr. [Cara Dafour Denison]