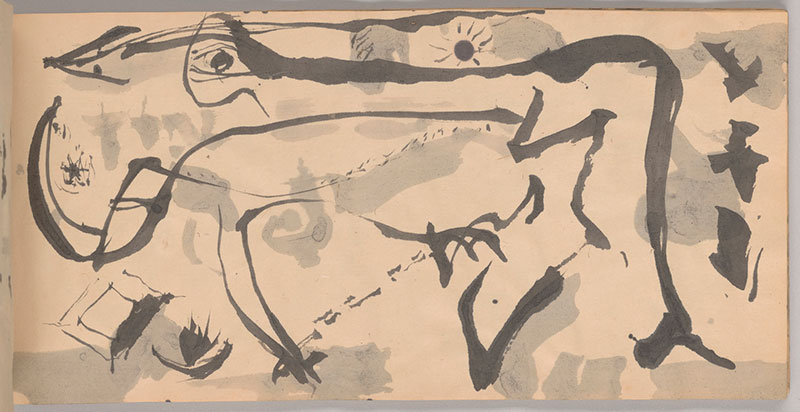 Black porous-point pen, pen and black and blue inks, brush and gray ink and wash, and graphite pencil on Asian paper.
leaves: approx. 5 5/8 x 11 13/16 inches (14.3 x 30.1 cm); binding: 5 5/8 x 12 7/8 inches (14.3 x 32.7 x 1.3 cm)
Provenance:
Lee Krasner Pollock; Eugene V. and Clare E. Thaw, New York.
Notes:
Watermarks: none. A copy of the limited edition facsimile of the sketchbook is stored alongside the original.
This sketchbook appears to have been first used by Pollock as a telephone pad, as revealed by the dates, names, casual notes, and doodles on the early pages. The last fourteen pages, however, include a sequence of delicate ink drawings. Although primarily abstract, they include references to the real world -- animal forms, stars, waves, an eye -- that relate them to Pollock's paintings of 1951, in which he moved away from the total abstraction of his classic drip paintings in favor of black and white semi-figurative compositions. The sketchbook is not dated. In their Catalogue Raisonné Francis Valentine O'Connor and Eugene Victor Thaw date it ca. 1950 to 1956. However, in his later survey William S. Lieberman suggests to date it between 1950 and no later than 1953. As the book first served as a notebook before it was turned into a sketchbook, it bears at least one date: May 22, 1950. Another date can be determined from a note about a screening of Hans Namuth and Paul Falkenberg's film, with music by Morton Feldman and narration by Pollock, which was first publicly shown at the Museum of Modern Art on June 14, 1951.