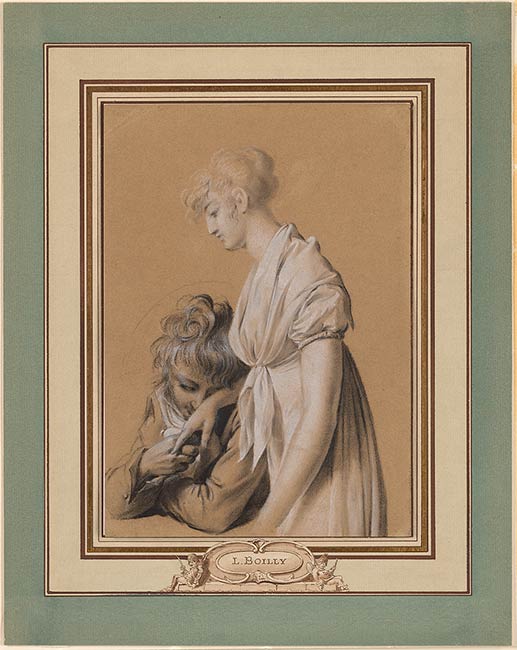 Study for The Reading of the Bulletin of the Grand Army
Black and white chalk, on blue paper, now light brown.
9 3/8 x 6 5/8 inches (239 x 168 mm)
Provenance:
Artemis (David Carritt, Ltd.), London; Eugene V. and Clare E. Thaw, New York.
Summary:
Between 1791 and 1824, Boilly participated in fourteen salons at the Louvre and, in the Salon of 1808, he exhibited six paintings, including La lecture du Bulletin de la Grande Armée (now in the Saint Louis Art Museum). The Thaw sheet is one of several preparatory studies executed for this painting. A large compositional drawing (private collection, Paris) is signed and dated 1806 and depicts a room filled with members of a large family with a group of men gathered around a table following the progress of the French imperial army on a map of Europe. The woman and young man in the Thaw sheet correspond to the standing woman and seated youth found on the right side of the large compositional study. In the latter work, however, the young man seated at the table avidly inspects the map while the woman is shown with her right arm around the young man's shoulder. The study on the verso of the Thaw sheet depicts a seated woman nursing; it, in turn, is preparatory for the woman on the left side of the large drawing, who nurses her baby by the fireside. An engraving after the painting is published in Roger Raymond Peyre's Napoléon 1er et son temps, Paris, Firmin-Didot, 1888.