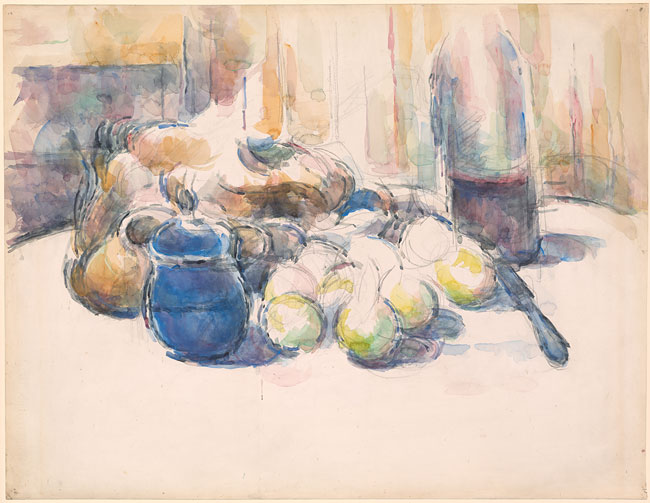 Still Life with Pears and Apples, Covered Blue Jar, and a Bottle of Wine. Verso: Landscape sketch with Mont Sainte-Victoire and trees
Watercolor over graphite; verso: Watercolor over graphite.
18 3/4 x 24 15/16 inches (476 x 617 mm)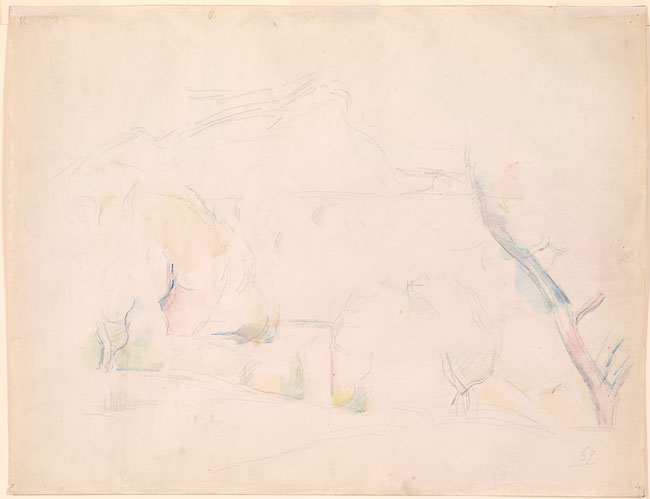 Exhibition label:
Cézanne began this monumental study of objects arrayed on his studio table with a light and free sketch in graphite and then used transparent strokes of watercolor in rich hues to define the contours. The broken lines and shimmering planes of color lend the sheet a dynamism that is enriched by the bold contrast of unpainted paper reserves. This dynamic still life was executed sometime during the last years of the artist's life, after his move in 1902 to the studio at Les Lauves, outside Aix-en-Provence.
Inscription:
Paper embossed MONTGOLFIER SA. Numbered on verso, in black chalk, "69" and "1984".
Provenance:
Ambroise Vollard, Paris; Henri Manguin, Paris; Lucile Manguin-Martinais, Paris; Galerie de Paris, Paris; Norton Simon, Los Angeles; Norton Simon Inc. Museum of Art, Pasadena; Eugene V. and Clare E. Thaw, New York.
Notes:
It was often remarked by those who knew him that Cézanne cared little for his watercolors. Yet he spent a good deal of time working in the medium, and at least 651 watercolors have survived. During his lifetime they were admired and collected by a significant minority, including such artists as Degas and Renoir. Here the artist began with a tentative sketch of his favorite landscape motif, Mont Sainte-Victoire, before turning the sheet over and starting Still-Life with Pears and Apples. This still-life is a perfect example of Cézanne's late watercolor manner, which John Rewald has characterized as "bold, superbly fluent, and self-assured." The subject matter as well as the close viewpoint, strong color values, and the handling of the brushwork suggested a date ca.1902-06 to John Rewald. Cézanne chose an unusual starting point for this work, beginning almost one-third of the way up the page. While a faint chalk sketch is visible, the artist has addressed the white paper directly with his brush, using patterns of bright color to mold forms that are almost abstract and retracing many of the contours with a broken blue brushline.