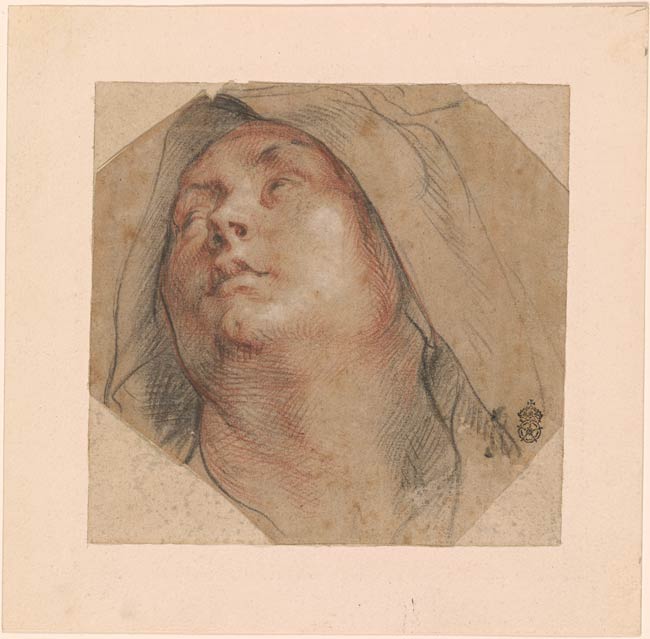 Head of a Woman Looking Up
Red and black chalk, heightened with white chalk, on paper; cut from a larger sheet in a roughly hexagonal shape; small paper loss in tip of veil.
4 15/16 x 5 1/16 inches (125 x 129 mm)
Gift of Suzanne A. Rosenborg.
Provenance:
Archibald George Blomefield Russell (Lugt S. 2770), London and Swanage; his sale, London, Sotheby's, 9 June 1955, as "Head of a Madonna" by Van Dyck; William Hallsborough Gallery, London; Suzanne A. Rosenborg.
Bibliography:
Tuinen, Ilona van. Power and Grace : Drawings by Rubens, Van Dyck, and Jordaens. New York : Morgan Library & Museum, 2018, page 23, fig. 14 (repr.)
R.-A. d'Hulst, Jordaens Drawings (A277, Vol. II; fig. 293, Vol. IV).
Notes:
When acquired in 2002, Jordaens' "Head of a Woman" joined a group of nine drawings by the artist already in the Library's collection and enhanced its considerable holdings of the Flemish school, well represented by works of Peter Paul Rubens and Anthony van Dyck.
This study, done predominantly in red and black chalk, was cut from a larger sheet that may have contained one or more other studies. Drawings such as this played a significant role in Jordaens' work in that he used them to develop standard figure types who often appear in more complete compositions, both drawn and painted. In this case, given the presence of the veil and the figure's imploring upward gaze, it seems highly likely that she was intended as a model for a religious figure, perhaps one who bore witness to a scene of martyrdom or crucifixion, subjects commonly represented by the artist. Roger-A. d'Hulst, in his catalogue raisonné of the artist's drawings, suggested that this head may have served Jordaens as a model for the Virgin in one or more versions of his painting The Descent from the Cross.
Associated names:
Russell, Archibald George Blomefield, 1879-1955, former owner.
Rosenborg, Suzanne A., former owner.