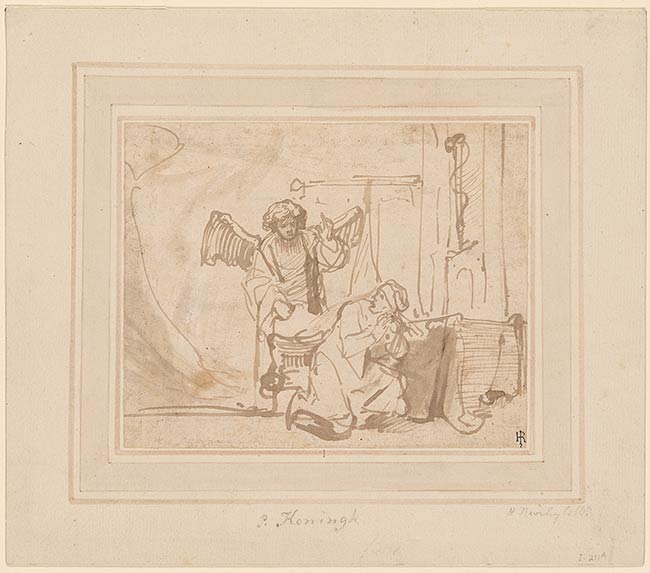 School of Rembrandt Harmenszoon van Rijn
The Angel Appearing to Zacharias in the Temple: Luke 1:5-22
Pen and faded brown ink and wash, on paper.
5 1/2 x 6 7/8 inches (140 x 174 mm)
Purchased by Pierpont Morgan (1837-1913) in 1909.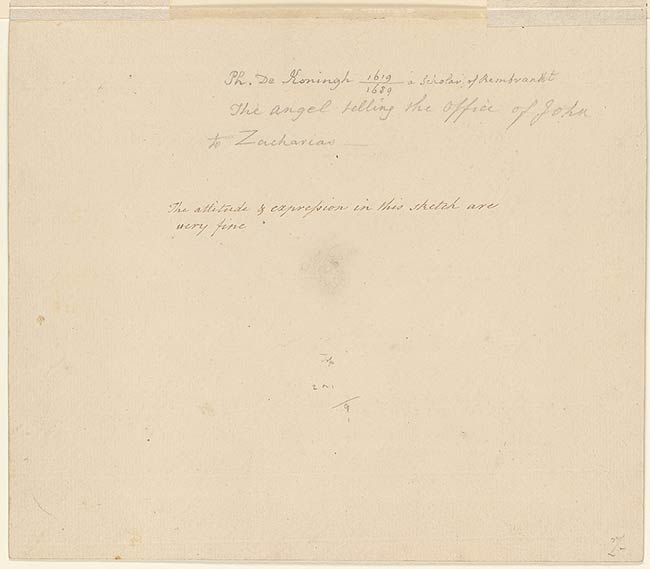 Inscription:
Inscribed on the old mount, in graphite: at lower center, "P. Koningh"; and at lower right, in another hand, "H. Reveley Colln". On the verso of the mount: at upper center, in the same hand as first inscription on the recto, in graphite, "Ph. De Koningh 1619/1689 a scholar of Rembrandt / The angel telling the Office of John / to Zacharias"; below this, in another hand, in brown ink, "The attitude & expression in this sketch are / very fine"; and in lower right corner, in graphite, "Z-".
Provenance:
Henry Reveley (1737-98), Bryn y Gwin, North Wales (Lugt 1356); his son, Hugh Reveley (1772-1851?); his son, Hugh John Reveley (1812-1889); his sale, London, Sotheby's, 21 April 1884, lot 130 (as "Pieter Koningh" to "Riggall" for £0.2.0); Charles Fairfax Murray, London (as Philips Koninck); from whom purchased in 1910 by J. Pierpont Morgan (no mark; see Lugt 1509).
Notes:
Watermark: Foolscap with five points (visible with fiber optic light; similar to Heawood, nos. 1921-2: 1648/9-51).
Formerly attributed to Philips Koninck, 1619-1688.
Associated names:
Koninck, Philips, 1619-1688, Formerly attributed to.
Reveley, Henry, 1737-1798, former owner.
Reveley, Hugh, 1772-1851? former owner.
Reveley, Hugh John, 1812-1889, former owner.
Murray, Charles Fairfax, 1849-1919, former owner.
Morgan, J. Pierpont (John Pierpont), 1837-1913, former owner.