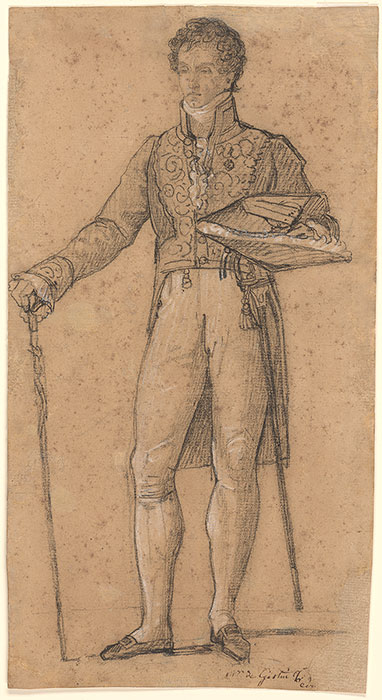 Full-Length Portrait of M. de Gestin
Black and white chalk, on light brown laid paper lined with Japanese paper.
12 1/4 x 6 1/2 inches (311 x 165 mm)
Inscription:
Inscribed at lower right, in pen and brown ink, "Mr de Gestin Fr.../ cir..."
Provenance:
John M. Thayer, Wilmington, DE.
Notes:
Watermark: Neglofler / Annonay.
This figure of M. de Gestin is probably a study for Heim's painting The Recovery of the Royal Remains at St. Denis, exhibited in the Salon of 1822 and now in the sacristy of St. Denis. The event depicted is the recovery of the remains of Louis XVI and Marie-Antoinette--they had been deposited in the Cour de Valois in 1793--and their subsequent placement in coffins on January 20, 1817. The scene takes place at night in front of the church of St. Denis. M. de Gestin, second aid to the Grand Master of Ceremonies of France, whose duties included assisting the royal family on ceremonious occasions, along with the Archbishop of Paris, is one of the two focal figures before the doorway of the church. Heim, who studied with François-André Vincent, began his career as a neoclassical history painter. He won the Prix de Rome in 1807 for his Theseus Vanquishing the Minotaur (Paris, Ecole des Beaux-Arts). He received numerous royal commissions during the Bourbon restoration.
The subject of the painting relates to a broad context of Bourbon restoration propaganda in which closer ties were sought with the church, and the memory of Louis XVI and Marie-Antoinette.
Associated names:
Thayer, John M. (John MacLane), 1944-2004, former owner.