St. John the Baptist Preaching in the Wilderness. Verso: Study for the Figure of St. John the Baptist Kneeling, Hands Clasped in Prayer
Pen and brown ink and wash, with lead white opaque watercolor, on blue paper. Verso: black and white chalk. Decorative perimeter mount, 16 1/2 x 11 1/8 inches )418 x282 mm).
13 1/16 x 9 3/8 inches (337 x 236 mm)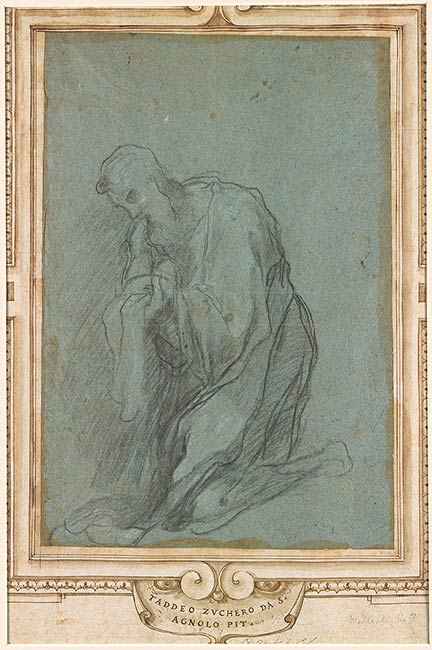 Inscription:
Inscribed on mount, in a cartouche, in pen and brown ink, "TADDEO ZUCHERO / DA S. AGNOLO. / PITTORE"; on verso of mount, in a cartouche, in pen and brown ink, "TADDEO ZUCHERO DA S. / AGNOLO PIT."; in pen and brown ink, in another hand, "Ld[superscript d] Bentink Col"; in graphite, "Wellesly Coll".
Watermark: Two crossed arrows (cf. Briquet 6299).
Provenance:
Possibly Giorgio Vasari (1511-1574; Lugt 2858), Florence; Niccolò Gaddi (1537-1591), Florence; Horace Walpole (1717-1797), London and Strawberry Hill, Twickenham (according to Scholz); Lord Bentinck (1774-1839; according to inscription on verso, pen and brown ink, Ld Bentick Col); possibly his sale, George Robins Great Rooms, Covent Garden, London, 12-23 June 1842, 10th day, lot 1264; Rev. Dr. Henry Wellesley (1791-1866; inscription on verso, in graphite, Wellesley Coll.), Oxford; his sale; Sotheby's, London, 6 July 1866, lot 2071, bought by Hogarth; presumably Hogarth & Sons, London; possibly Sir William Richard Drake (1817-1890), London and Oatlands Lodge, Weybridge, Surrey; possibly his sale, Christie's, London, 25 May 1892, lot 391, bought by Murray; Walter Hugelshofer, Zurich; probably Max Goldstein, St. Louis; purchased in New York or St. Louis in 1949 by Janos Scholz (1903-1993), New York (see Lugt 29336; old Scholz mount annotated, St. Louis / NY 1949, crossed out; Scholz card in department file records possibly contradictory information, referring to Swiss dealer Water Hugelshofer, "from Hudelshofer 1948 9").
Bibliography:
Rhoda Eitel-Porter and and John Marciari, Italian Renaissance Drawings at the Morgan Library & Museum, New York, 2019, no. 110.
Selected references: Indianapolis 1954, no. 42; Cologne 1963-64, no. 180; Gere 1969, no. 152; Notre Dame and Binghamton 1970, no. D25; New York 1971, no. 180; Norton 1971, no. 30; Washington and New York 1973-74, no. 6; Ragghianti Collobi 1974, 1:147; Fellows Report 20 1984, 187; Vienna and Budapest 1988-89, no. 23; Milwaukee and New York 1989-90, no. 22; New York and Chicago 1994, no. 72; Acidini Luchinat 1998-99, 1:65; Marciari 2018a, 123-24.
John A. Gere, Taddeo Zuccaro. His Development Studied in His Drawings, London, 1969, p. 181, fig. 44.
Konrad Oberhuber and Dean Walker. Sixteenth Century Italian Drawings From the Collection of János Scholz. National Gallery of Art, Washington, D.C., and The Pierpont Morgan Library, New York, 1973, no. 6 (includes full bibliography and exhibitions).
E. James Mundy, Renaissance into Baroque: Italian Master Drawings by the Zuccari 1550-1600, exh. cat. Milwaukee Art Museum, Milwaukee, and National Academy of Design, New York, 1989-1990, pp. 104-106, no. 22, repr.
William M. Griswold and Linda Wolk-Simon, Sixteenth-Century Italian Drawings in New York Collections,The Metropolitan Museum of Art, New York, and the Art Institute, Chicago, 1994, pp. 80-82, no. 72, repr. (recto and verso).
From Leonardo to Pollock: Master drawings from the Morgan Library. New York, 2006, cat. no. 19, pp. 44-45.
Associated names:
Vasari, Giorgio, 1511-1574, former owner.
Gaddi, Niccolò, 1537-1591, former owner.
Walpole, Horace, 1717-1797, former owner.
Bentinck, William Henry Cavendish, Lord, 1774-1839, former owner.
Wellesley, Henry, 1791-1866, former owner.
Drake, William Richard, Sir, 1817-1890, former owner.
Hugelshofer, Walter, former owner.
Goldstein, Max, former owner.
Scholz, János, former owner.