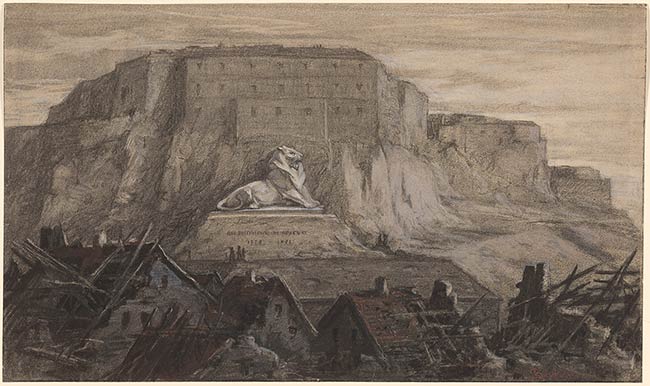 Frédéric Auguste Bartholdi
The Lion of Belfort with the Ruins of Belfort in the Foreground
Black, red, and blue chalk, charcoal, opaque black, with white opaque watercolor, on paper.
11 x 18 5/8 inches (280 x 474 mm)
Purchased on the Edwin H. Herzog Fund.
Inscription:
Signed and dated in red chalk, at lower right corner, "Bartholdi 1874".
Provenance:
W. M. Brady & Co., Inc., New York.
Notes:
This drawing was made in connection with Bartholdi's commission of 1871 to design and execute a colossal sculpture of a lion for the Alsatian town of Belfort to symbolize Belfort's resistance against the Prussian invader in the Franco-Prussian war of 1870.