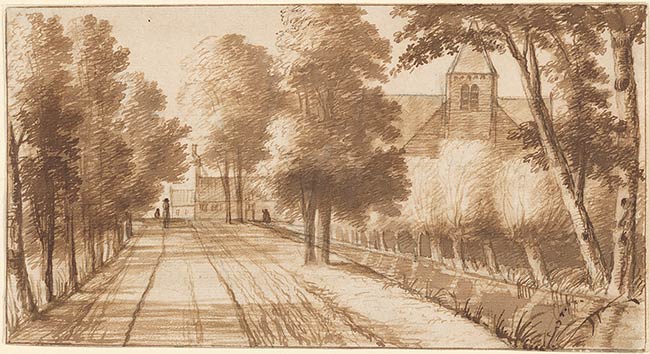 A Road by a Canal Approaching a Village
Pen and brown ink, over black chalk, on paper; framing line in brown ink.
4 5/16 x 8 3/16 inches (110 x 209 mm)
Purchased as the gift of the Markus Family in memory of Frits Markus.
Inscription:
Inscribed on the verso, at lower left, in black chalk, "472"; below this, in another hand (under the de Vos stamp), in black chalk, "...driis (?)"; illegible inscription below this (also under stamp); further below, in graphite, "aL-0-?"; and at lower center, in graphite, "A 5635".
Watermark: Fleur-de-lis in a crowned shield, over "4". Fragment of Strasbourg lily.
Provenance:
Jacob de Vos Jbzn (1803-82), Amsterdam (Lugt 1450); Pieter Langerhuizen Lzn (1839-1918), "Crailoo," near Bussum, the Netherlands (Lugt 2095); Dr. Curt Otto (c. 1880-1929), Leipzig (Lugt S. 611c); his sale, Leipzig, Boerner, 7 November 1929, lot 88; Dr. C.R. Rudolf (1884-1974), London (Lugt S. 2811b); his sale, Amsterdam, Sotheby Mak van Waay, 18 April 1977, lot 80 (to Richard Day for a private collector); private collection; acquired from Richard Day Ltd., London.
Bibliography:
Jane Shoaf Turner, with contributions by Felice Stampfle, Dutch Drawings in the Pierpont Morgan Library: Seventeenth to Nineteenth Centuries, New York, 2006, cat. no. 263.
Associated names:
Vos Jacobszoon, Jacob de, 1803-1878, former owner.
Langerhuizen, Pieter, 1839-1918, former owner.
Otto, Curt, 1880-1929, former owner.
Rudolf, C. R., 1884-1974, former owner.
Markus family, donor.