Heron Encircled by a Snake, with a Worm in his Bill
Waterccolor and white opaque watercolor, with selectively applied gum arabic, on vellum.
14 7/8 x 12 1/16 inches (377 x 307 mm)
Purchased as the gift of Mrs. Landon K. Thorne, Jr., in memory of her husband.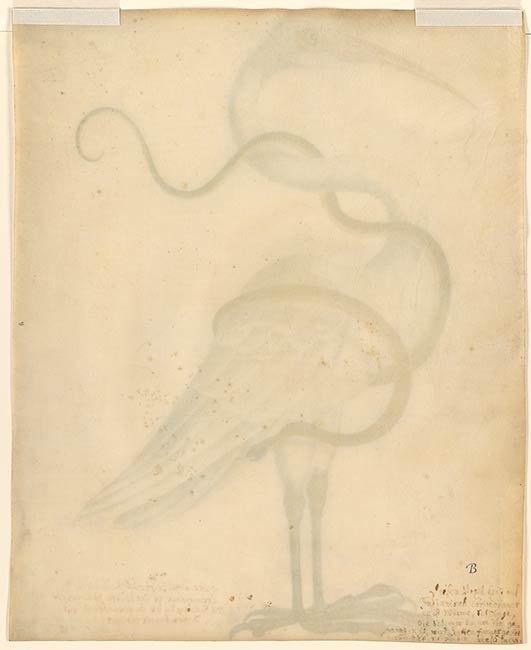 Inscription:
Inscribed at lower right, in pale brown ink, "Dieses Vogel heist auf Indianisch / Coximoyanex er isset Würme, Schlangen s.s. / Die Schlange die um ihn gewunden ist, wird / Rattenfanger genant". A nearly identical inscription appears on the verso, at lower right, in brown ink, "Dieses Vogel heist auf / Indianisch Coximoyanex / er ist Würme, / Schlange, / die Schlange die um ihn ge: / wunden ist, wird Ratten fanger genant / daru. das sie Ratten verschluckt".
Provenance:
Acquired at sale, Amsterdam, Sotheby Mak van Waay, 18 November 1980, lot 67, repr.
Notes:
The inscription on the recto and verso explains that the "worm-eating bird is named Coximoyanex by the Indians" and that the "snake encircling him is called a rat-catcher."