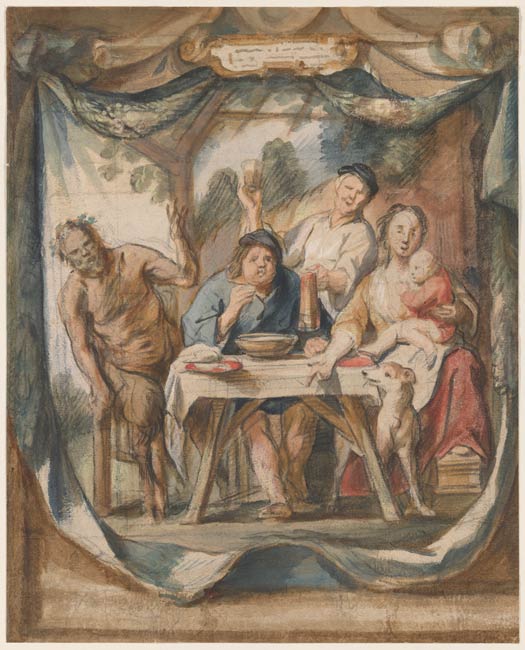 The Satyr and the Peasant
Watercolor and opaque watercolor, over charcoal and red chalk, on laid paper; squared in charcoal; sheet extended at left side, top, and bottom by the artist.
11 15/16 x 9 5/8 inches (303 x 245 mm)
Purchased by Pierpont Morgan (1837-1913) in 1909.
Inscription:
Numbered on verso, in brown ink, "7".
Watermark: Cluster of grapes with very small, hollow stem (Heawood 2097).
Provenance:
Possibly Henry Temple, second Viscount Palmerston (1739-1802); Henry John Temple, third Viscount Palmerston (1784-1865); probably his stepson, William Francis Cowper-Temple, Baron Mount-Temple (1811-1888); his nephew, the Right Honorable Evelyn Ashley (1836-1907), biographer of second Viscount Palmerston (by bequest from Lord Palmerston); possibly Ashley's sale (collection of second Viscount Palmerston), London, Christie's, 24 April 1891, as one of three in lot 177 (along with Acc. No. III, 170 and another of the Morgan drawings by Jordaens, possibly III, 168), to Fairfax Murray for £3.3.0; Charles Fairfax Murray (1849-1919), London and Florence; from whom purchased through Galerie Alexandre Imbert, Rome, in 1909 by Pierpont Morgan (1837-1913), New York (no mark; see Lugt 1509); his son, J. P. Morgan, Jr. (1867-1943), New York.
Bibliography:
Tuinen, Ilona van. Power and Grace : Drawings by Rubens, Van Dyck, and Jordaens. New York : Morgan Library & Museum, 2018, no. 13 (repr.)
Collection J. Pierpont Morgan : Drawings by the Old Masters Formed by C. Fairfax Murray. London : Privately printed, 1905-1912, I, 236.
Stampfle, Felice, with the assistance of Ruth S. Kraemer and Jane Shoaf Turner. Netherlandish Drawings of the Fifteenth and Sixteenth Centuries and Flemish Drawings of the Seventeenth and Eighteenth Centuries in the Pierpont Morgan Library. New York : Pierpont Morgan Library, 1991, p. 130, no 283, repr.
Notes:
After Rubens's death in 1640, Jordaens became the most productive and highly sought designer of tapestries in Antwerp. This is a design for one of a series of eight tapestries with Flemish proverbs commissioned in 1644. It represents a popular fable by the Greek storyteller Aesop in which a satyr is so baffled at witnessing a peasant first blow on his hands to warm them, and then blow on his porridge to cool it, that he decides that this peasant, someone who blows both hot and cold, cannot be trusted. Jordaens depicted this story throughout his career, often, such as here, using the features of himself and his wife, Catharina van Noort for those of the peasant and his wife. -- Exhibition Label, from "Power and Grace: Drawings by Rubens, Van Dyck, and Jordaens"
Associated names:
Palmerston, Henry Temple, Viscount, 1739-1802, former owner.
Palmerston, Henry John Temple, Viscount, 1784-1865, former owner.
Mount Temple, William Francis Cowper-Temple, Baron, 1811-1888, former owner.
Ashley, Evelyn, 1836-1907, former owner.
Murray, Charles Fairfax, 1849-1919, former owner.
Morgan, J. Pierpont (John Pierpont), 1837-1913, former owner.