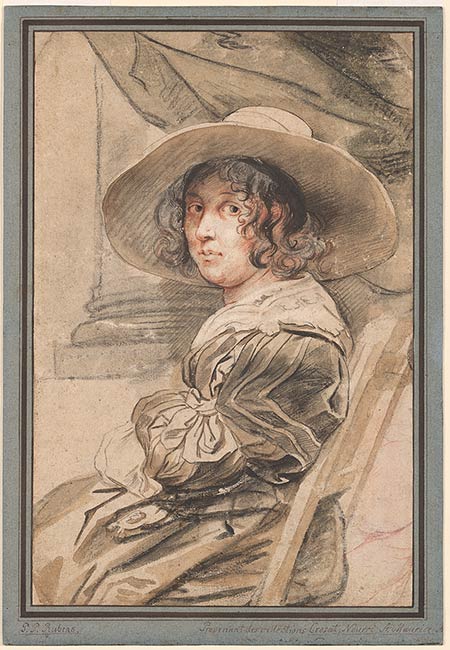 Portrait of a Young Woman
Black watercolor, brown ink wash, black and red chalks, red chalk with wet brush, white chalk, smudged, and charcoal on laid paper adhered on decorative mount.
16 1/2 x 10 15/16 inches (419 x 277 mm)
Gift of the Fellows with the special assistance of a number of Fellows and Trustees in honor of Felice Stampfle.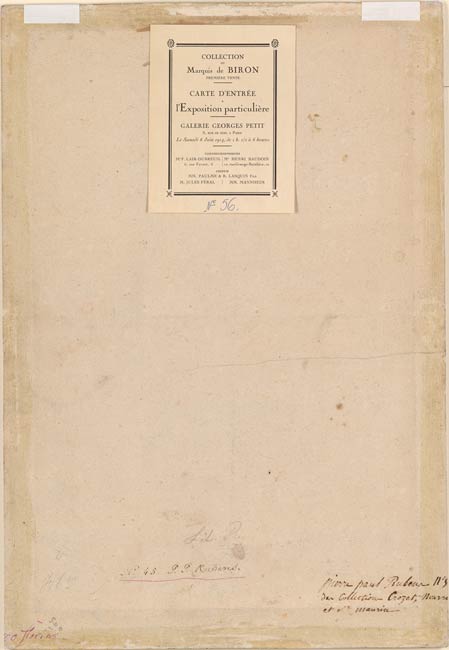 Inscription:
Inscribed at the lower right, barely visible, in graphite, "P P Rubens". On old blue mount, at lower left, in red ink, "P.P. Rubens"; at lower right, "Provenant des collections Crozat, Nourri, St. Maurice etc". On verso of mount, in an old hand, in graphite, "Lit. R."; at lower center, in brown ink, No ["o" in superscript]. 45. P. P. Rubens"; at lower right, in a different brown ink, "pierre paul Rubens No ["o" in superscript] 5 / des collections Crozat, Nourri / et St Maurice"; at lower left, in same hand as on recto of mount, in red ink, "180 florins".
Provenance:
Pierre Crozat (no mark; see Lugt 2951-52); his sale, Paris, Mariette, 10 April 1741, perhaps one in lots 837-42 ("Etudes de Têtes par Rubens"); Nourri; possibly his sale, Paris, Folliot & Delande, 24 February-14 March 1785, lot 852 ('[Pierre-Paul Rubens] un Buste de femme du caractère de tète le plus agréable, coeffée en cheveux, portant fraise et collerette à l'Espagnole; il est dessiné au crayon noir, à la sanguine, lavé au bistre et rehaussé de blanc. Hauteur 9 pouces 9 lignes, largeur 7 pouces 6 lignes"; to Constantini for Fr214); Saint Maurice (Charles-Paul-Jean-Baptiste Bourgevin Vialart de Saint-Morys [1743-1795]); possibly his sale, Paris, Paillet, 6 February 1786, part of lot 787 ("Huit dessins par Rubens, Jordaens et Vandick. Des Etudes De Têtes et différens Portraits; dessinés à la plume et lavés, d'autres au crayon noir et à la sanguine"; to Lenglier for Fr12.1); Marquis de Biron; his sale, Paris, Galerie Georges Petit, 9-11 June 1914, lot 56, repr. (Rubens; to Lucien Guiraud for Fr 14,600); M. d'Ormesson; E. Marich, Paris; Dumont, Paris; Adolphe Stein, Paris and London; acquired from C.G. Boerner, Düsseldorf.
Bibliography:
Tuinen, Ilona van. Power and Grace : Drawings by Rubens, Van Dyck, and Jordaens. New York : Morgan Library & Museum, 2018, no. 17 (repr.)
Stampfle, Felice, with the assistance of Ruth S. Kraemer and Jane Shoaf Turner. Netherlandish Drawings of the Fifteenth and Sixteenth Centuries and Flemish Drawings of the Seventeenth and Eighteenth Centuries in the Pierpont Morgan Library. New York : Pierpont Morgan Library, 1991, p. 129, no. 282, repr.
From Leonardo to Pollock: Master drawings from the Morgan Library. New York: Morgan Library, 2006, cat. no. 39, p. 86-87.
100 Master drawings from the Morgan Library & Museum. München : Hirmer, 2008, no. 50, repr. [Jennifer Tonkovich]
Notes:
Watermark: none.
Attributions of drawings to Rubens, van Dyck, and Jordaens are sometimes the subject of ongoing debate. This arresting portrait of a woman dressed according to the fashion of the late 1630s is just such a case. For many centuries it was considered to be by Rubens, but in 1980 it was reattributed to Jordaens after it resurfaced in a French collection. Although Jordaens made fewer portrait drawings than Rubens and van Dyck, he did execute a modest number in the 1630s, when his bold, fresh portraits became popular. This portrait certainly displays several characteristics of Jordaens's drawing style, such as the broad, angular contour lines, the complex combination of charcoal, colored chalks, and washes, and the abandoned red chalk lines at bottom right. A conspicuous difference from Jordaens's other portraits is that the sitter is depicted in profile while her head is turned to face the viewer. Equally unusual for Jordaens is the generously applied dark brown wash in the woman's hair, both accentuating her curls and indicating the shadow of her broad-rimmed hat. An artist who did depict his sitters in such dynamic positions and applied similar washes in the areas of the hair was Jan Cossiers (1600-1671), who has sometimes been suggested as the author of the drawing. Cossiers's small drawn oeuvre consists mainly of exquisite portrait drawings of his family members executed in the late 1650s, including a portrait of the artist's son in the Morgan Library's collection, inv. I, 248. Could it be that this is a work by the young Cossiers looking at Jordaens? Or is this beautiful portrait an unusual drawing by Jordaens? In either case, it is a work that embodies the bold style and elaborate technique that are the benchmarks of Flemish Baroque drawings. -- Exhibition Label, from "Power and Grace: Drawings by Rubens, Van Dyck, and Jordaens"
Associated names:
Crozat, M. (Pierre), 1661-1740, former owner.
Nourri, former owner.
Saint-Morys, Charles-Paul-Jean-Baptiste de Bourgevin Vialart de, 1743-1795, former owner.
Biron, Marquis de, former owner.
Ormesson, d', former owner.
Marich, E., former owner.
Stein, Adolphe, former owner.