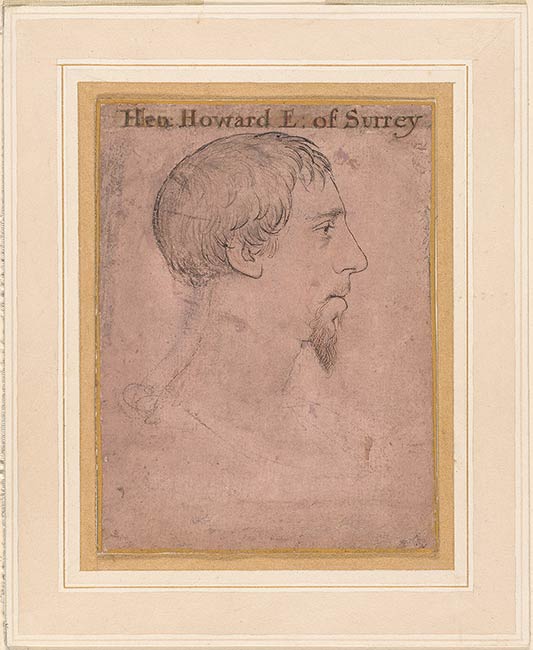 Portrait of Henry Howard, Earl of Surrey
Black chalk, with pen and black ink, on pink prepared paper.
5 7/16 x 4 1/16 inches (138 x 103 mm)
Purchased by Pierpont Morgan (1837-1913) in 1909.
Inscription:
Inscribed at upper edge in red-brown ink over graphite, "Hen. Howard E. of Surrey".
Provenance:
Very likely part of the "Great Booke" in the collection of King Henry VIII (1491-1547); King Edward VI (1537-1553); Henry FitzAlan, 12th Earl of Arundel (1512-1580); by whom bequeathed to John, Lord Lumley (c. 1533-1609), in 1580; by whom probably bequeathed to Henry, Prince of Wales (1594-1612), in 1609; inherited by Prince Charles (later King Charles I) (1600-1649), in 1612; by whom exchanged with Philip Herbert, 4th Earl of Pembroke (1584-1650), in 1627-28; by whom given to Thomas Howard, 14th Earl of Arundel (1585-1646); acquired by King Charles II (1630-1685) by 1675. Likely removed from the Royal Collection between 1743 and 1774. In the possession of Charles Fairfax Murray (1849-1919), London and Florence, by 1909; from whom purchased through Galerie Alexandre Imbert, Rome, in 1909 by Pierpont Morgan (1837-1913), New York (no mark; see Lugt 1509); his son, J. P. Morgan, Jr. (1867-1943), New York.
Bibliography:
Collection J. Pierpont Morgan : Drawings by the Old Masters Formed by C. Fairfax Murray. London : Privately printed, 1905-1912, I, 259, repr.
Notes:
This drawing very likely corresponds with no. 100 ("Thomas [sic] Howard, Earl of Surry, a profile... Drawn by H. Holbein"), in George Vertue's "Catalogue of the collection of pictures, &c. belonging to King James the Second : to which is added, a catalogue of the pictures and drawings in the closet of the late Queen Caroline, with their exact measures..." (compiled in 1743; published in 1758). The drawing is not mentioned in Musgrave's 1774 inventory of the Royal Collection, which suggests that it was removed from the collection by that date. See L. Oliver, V. Button, A. Derbyshire, N. Frayling, and R. Withnall, "New Evidence Towards an Attribution to Holbein of a Drawing in the Victoria and Albert Museum," The Burlington Magazine, vol. 148, 2006, p. 168.
Associated names:
Murray, Charles Fairfax, 1849-1919, former owner.
Morgan, J. Pierpont (John Pierpont), 1837-1913, former owner.