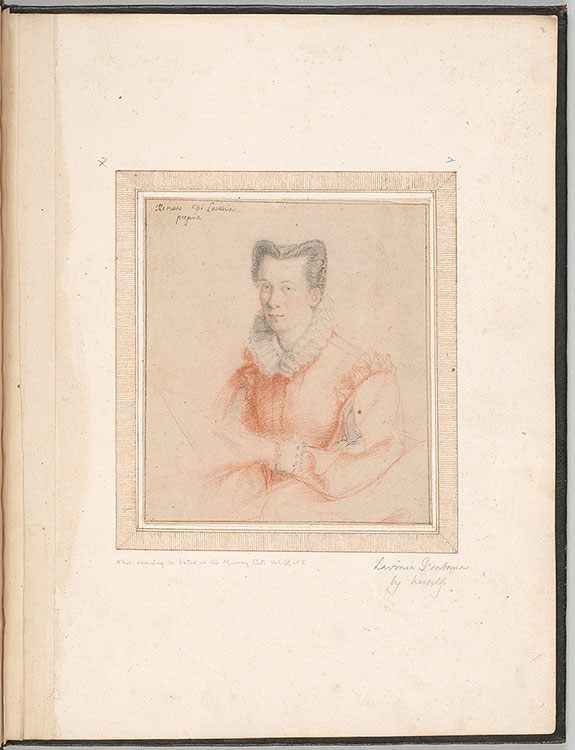 Red and black chalk. Ruled border in pen and brown ink, laid down, simulated frame in pen and brown ink.
6 7/16 x 5 11/16 inches (164 x 145 mm)
Purchased by Pierpont Morgan (1837-1913) in 1909.
Inscription:
Inscribed in pen and brown ink at upper left, Ritrato di Lavinia / propria.
Provenance:
Henry Temple, 2nd Viscount Palmerston (1739-1802), Broadlands, near Romsey, Hampshire, and London; his son, Henry John Temple, 3rd Viscount Palmerston (1784-1865), Broadlands and London; his widow, Mary (née Clavering), Lady Palmerston (d. 1869), Broadlands; her grandson, the Rt. Hon. Evelyn Ashley (1836-1907), Broadlands; his sale, London, Christie's, 24 April 1891, as lot 200, "A Volume of Portraits - in colours - by Lavinia Fontana" (bought by Murray for 4.17.6); Charles Fairfax Murray (1849-1919), London and Florence; from whom purchased through Galerie Alexandre Imbert, Rome, in 1909 by Pierpont Morgan (1837-1913), New York (no mark; see Lugt 1509); his son, J. P. Morgan, Jr. (1867-1943), New York.
Bibliography:
Cantaro, Maria Teresa, Lavinia Fontana, Bolognese: "Pittora Singolare" 1552-1614, Milan, 1989.
Lavinia Fontana 1552-1614, ex. cat., Museo Civico Archeologico, Bologna, 1994.
Lavinia Fontana of Bologna 1552-1614, ex. cat., National Museum of Women in the Arts, Washington D.C., 1998.
Murphy, Caroline, Lavinia Fontana: A Painter and Her Patrons in Sixteenth-Century Bologna, New Haven, 2003.
Notes:
One of 19 drawings in an album of portrait studies by Fontana (IV, 158a-s); this study appears on folio 2. Album description: dark blue goatskin, tooled in gold, 14 3/4 x 11 1/4 inches (334 x 284 mm).
This self-portrait is from an album of drawings by Lavinia Fontana, who is considered the first professional woman artist in Europe. Based primarily in her native Bologna, Italy, she opened a studio of her own and painted altarpieces, small devotional panels, and mythological paintings as well as portraits, a range of work that went beyond that of any previous female painter. Fontana is not well known as a draftsman, and the Morgan album and a cache of drawings in the Gallerie degli Uffizi represent most of her known graphic work. In addition to the self-portrait, the Morgan album includes eighteen additional portrait drawings, of men and women of fashion as well as priests and nuns--presumably Lavinia's patrons in Bologna and Rome.
The pose, face, hair style and costume of the present drawing are very similar to those in the circular Self-Portrait in her Studio of 1579 in the Galleria degli Uffizi, Florence (inv. 1890, no. 4013), suggesting a similar dating.
Associated names:
Palmerston, Henry Temple, Viscount, 1739-1802, former owner.
Palmerston, Henry John Temple, Viscount, 1784-1865, former owner.
Palmerston, Emily Lamb, Viscountess, 1787-1869, former owner.
Ashley, Evelyn, 1836-1907, former owner.
Murray, Charles Fairfax, 1849-1919, former owner.
Morgan, J. Pierpont (John Pierpont), 1837-1913, former owner.
Morgan, J. P. (John Pierpont), 1867-1943, former owner.