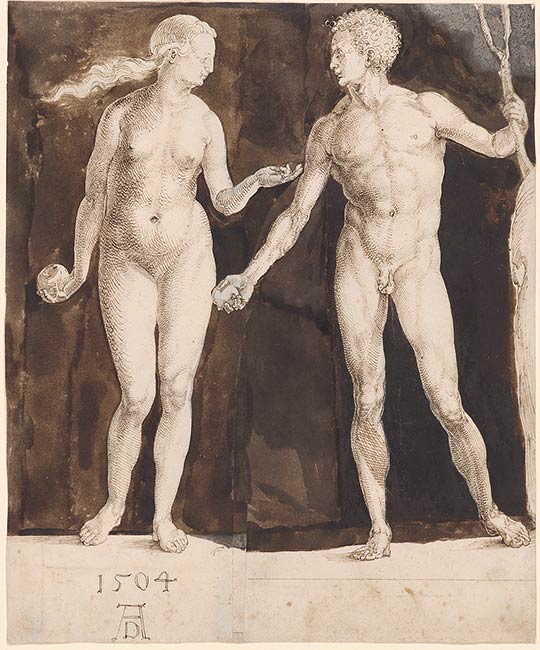 Pen and brown ink and brown wash, with corrections in white gouache, on two separate sheets of paper, cut by the artist and joined together by a third strip, trimmed from the original Adam sheet, to which the artist has added brown wash.
9 5/8 x 7 15/16 inches (242 x 201 mm)
Gift of John Pierpont Morgan Jr. 1924.
Inscription:
Signed with the artist's monogram and dated at lower left, "1504". Inscribed in pencil on verso at lower right, "Amt. Gsell / No. 586"; numbered at lower left and lower right, "119".
Provenance:
Agnes Dürer, the artist's wife; Endres Dürer, the artist's brother; Willibald Pirckheimer; Willibald Imhoff (1519-1580); Emperor Rudolph II, Prague; Imperial Library, Vienna; Count Antoine-François Andréossy, Vienna (d. 1828); probably his sale, Paris, Hôtel Drouot, 13-16 April 1864, lot 62, "Très-beau dessin éxécute à la plume, sur papier teinté de sépia, signé et daté 1504" (to Posonyi); Friedrich Jakob Gsell, Vienna (1812-1871); Baron Adalbert von Lanna, Prague (Lugt 2773); his sale, Stuttgart, Gutekunst, 6-11 May 1910, part II, lot 211; J. Pierpont Morgan (no mark; see Lugt 1509).