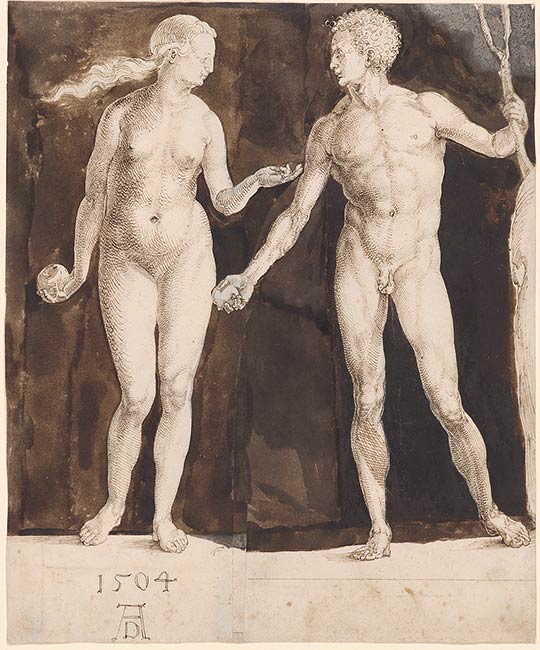 Pen and brown ink and wash, with corrections in white opaque watercolor, on two separate sheets of paper, cut by the artist and joined together by a third strip, trimmed from the original Adam sheet, to which the artist has added brown wash.
9 5/8 x 7 15/16 inches (242 x 201 mm)
Gift of John Pierpont Morgan Jr. 1924.
Inscription:
Signed with the artist's monogram and dated at lower left, "1504". Inscribed in pencil on verso at lower right, "Amt. Gsell / No. 586"; numbered at lower left and lower right, "119".
Provenance:
Agnes Dürer, the artist's wife; Endres Dürer, the artist's brother; Willibald Pirckheimer; Willibald Imhoff (1519-1580); Emperor Rudolph II, Prague; Imperial Library, Vienna; Count Antoine-François Andréossy, Vienna (d. 1828); probably his sale, Paris, Hôtel Drouot, 13-16 April 1864, lot 62, "Très-beau dessin éxécute à la plume, sur papier teinté de sépia, signé et daté 1504" (to Posonyi); Friedrich Jakob Gsell, Vienna (1812-1871); Baron Adalbert von Lanna, Prague (Lugt 2773); his sale, Stuttgart, Gutekunst, 6-11 May 1910, part II, lot 211; J. Pierpont Morgan (no mark; see Lugt 1509).
Description:
Dürer achieved the classically proportioned figures of the Adam and Eve print through a significant amount of preliminary effort. This sheet shows the complexity of his preparatory trials. He joined two pieces of paper, a figure on each, and added a third vertical strip down the middle to create the appropriate distance between them. He then applied brown wash to unify the entire composition. Of the many drawings produced in connection with the print, this work is the only one to include both the male and female figures. That they each hold an apple, the temptation that led to their expulsion from the Garden of Eden, reveals Dürer's willingness to experiment as he resolved the composition. In the final print, he decided to place the apple only in Eve's hand.
Bibliography:
Denison, Cara D., and Helen B. Mules, with the assistance of Jane V. Shoaf. European Drawings, 1375-1825. New York : Pierpont Morgan Library, 1981, no. 32, repr.
From Leonardo to Pollock: Master drawings from the Morgan Library. New York: Morgan Library, 2006, cat. no. 51, p. 110-111.
Associated names:
Dürer, Agnes, former owner.
Dürer, Endres, former owner.
Pirckheimer, Willibald, 1470-1530, former owner.
Imhoff, Willibald, 1519-ca. 1579, former owner.
Rudolf II, Holy Roman Emperor, 1552-1612, former owner.
Andréossy, Antoine-François, comte, 1761-1828, former owner.
Gsell, Friedrich Jakob, former owner.
Lanna, Adalbert Franz Josef, Freiherr von, 1836-1909, former owner.
Morgan, J. Pierpont (John Pierpont), 1837-1913, former owner.