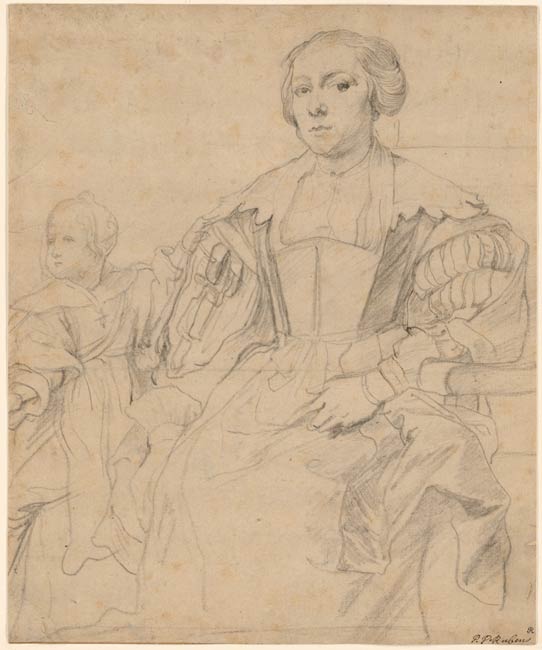 Study of Anna van Thielen and her Daughter Anna Maria Rombouts
Black chalk with pen and brown ink, on laid paper.
12 1/2 x 10 5/16 inches (317 x 262 mm)
Purchased by Pierpont Morgan (1837-1913) in 1909.
Inscription:
Inscribed at lower right, in brown ink, "P.P. Rubens".
Provenance:
Jonathan Richardson, Sr. (Lugt 2183); Sir Thomas Lawrence (Lugt 2445. Not identifiable in Lawrence-Woodburn sales); Jacob de Vos Jbzn (Lugt 1450); his sale, Amsterdam, Roos, Muller ..., 22-24 May 1883, lot 452 (under Rubens but with the notation: "Croquis magistral à la pierre noire qui nous paraît plutôt être de van Dyck, savoir une première idée pour le tableau du Maître au Musée de Dresde. Hauteur 32, largeur 27 cent"; to Thibaudeau for Heseltine for Fl.305); J.P. Heseltine (no mark; see Lugt 1507-08); given by him to Sir Frederick Leighton; Frederick, Lord Leighton (Lugt S. 1741a) his sale, London, Christie's, 16 July 1896, lot 436 (to Fairfax Murray for £17.0.0); Charles Fairfax Murray (1849-1919), London and Florence; from whom purchased through Galerie Alexandre Imbert, Rome, in 1909 by Pierpont Morgan (1837-1913), New York (no mark; see Lugt 1509); his son, J. P. Morgan, Jr. (1867-1943), New York.
Bibliography:
Tuinen, Ilona van. Power and Grace : Drawings by Rubens, Van Dyck, and Jordaens. New York : Morgan Library & Museum, 2018, no. 9 (repr.)
Collection J. Pierpont Morgan : Drawings by the Old Masters Formed by C. Fairfax Murray. London : Privately printed, 1905-1912, I, 244, repr.
Stampfle, Felice, with the assistance of Ruth S. Kraemer and Jane Shoaf Turner. Netherlandish Drawings of the Fifteenth and Sixteenth Centuries and Flemish Drawings of the Seventeenth and Eighteenth Centuries in the Pierpont Morgan Library. New York : Pierpont Morgan Library, 1991, p. 122, no. 270, repr.
Notes:
Watermark: hunting horn within a shield; illegible countermark. Not in Briquet.
As a mature artist, van Dyck developed into the most highly sought portraitist in Flanders. This is a preparatory study for his painted portrait of Anna van Thielen, the wife of van Dyck's fellow artist Theodoor Rombouts, and their three- or four-year-old daughter, Anna Maria, now in the Alte Pinakothek in Munich. Van Dyck took care to capture Anna's features and dress, devoting particular attention to the folds of the fabric and the slashed sleeves. He was less precise in his portrayal of the daughter, which enabled him to adapt details as he saw fit during the painting process. -- Exhibition Label, from "Power and Grace: Drawings by Rubens, Van Dyck, and Jordaens"
Associated names:
Richardson, Jonathan, 1665-1745, former owner.
Lawrence, Thomas, Sir, 1769-1830, former owner.
Vos Jacobszoon, Jacob de, 1803-1878, former owner.
Thibaudeau, former owner.
Heseltine, J. P. (John Postle), 1843-1929, former owner.
Leighton of Stretton, Frederic Leighton, Baron, 1830-1896, former owner.
Murray, Charles Fairfax, 1849-1919, former owner.
Morgan, J. Pierpont (John Pierpont), 1837-1913, former owner.