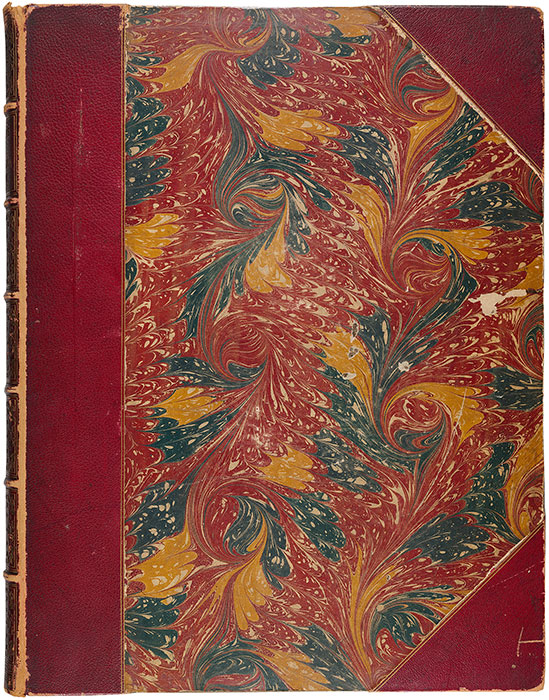 The album's 69 gold-edged leaves, each separated by a guard sheet; one to seven works are pasted on the recto of each album leaf, in most cases along the drawing's left margin; framing border of gray wash and graphite lines has been applied on the album page around each drawing.
Album as a whole: 16 x 20 inches (410 x 518 mm); individual leaves: 15 x 19 3/4 inches (386 x 500 mm)
Inscription:
Inscribed on placard mounted on frontispiece, in black ink, "Christian Chalon, born in/ Amsterdam in 1748, and studied / painting under Sara Troost and / Ploos van Amstel. Devoted herself / particularly to etching. Died in / Leyden 1808 / Bryan-Dict. Of Painting / . 1903 vol 1."; below this, in graphite, "Excoll: J. van Buuren [see Thieme-Becker and verso of drawing 1a]"; on verso of frontispiece, at upper left corner, in grahite: "1403"; below this in another hand "Pv.R/E/ Orignial Material"; on endpage, in graphite: at upper left corner, "duaritch Aug. 21, 1909 / £187"; at upper right corner, "28/10/05". Many of Chalon's drawings carry either her signature or her monogram. The drawings are numbered on the album page.
Provenance:
Isaac van Buren, Bailiff of Noordwijkerhout, Hillegom, Lisse, and Voorhout; his sale, The Hague, Scheurleer, 7-12 November 1808; Sir Charles Rugge Price; his sale, London, Sotheby's, 21-3 February 1867, lot 92; J. Pierpont Morgan (no mark; see Lugt 1509).
Bibliography:
Stampfle, Felice. Rubens and Rembrandt in Their Century : Flemish and Dutch Drawings of the Seventeenth Century from The Pierpont Morgan Library. New York : Pierpont Morgan Library, 1979, under no. 90.
Notes:
The album with works by Christina Chalon in the Morgan Library--probably the largest collection of the artist's drawings now known--contains 106 drawings and 17 etchings. The works are organized in three separate sections: the first (unnamed) begins with ten of Chalon's earliest drawings; these are followed by eight examples "...gewassen met Oostindise Inkt en Roet" (i.e. with gray wash and red [chalk]), beginning on fol. 11; the "gecouleurde" (colored) drawings start on fol. 36.
Several of Chalon's compositions in the Morgan Library's album were etched. The prints after fols. 7, 9, 22, 47, 48, and 52, which are pasted immediately beneath the drawings or on the following page, are by the Leiden printmaker Nicolaas van der Worm (1757-1828). Two states of the etchings after fols. 7 and 9 are preserved in the Morgan album: they appear immediately below the related drawings, as well as on the same sheet as fols. 47 and 48. Curiously, all the etchings by Worm are in the same direction as the original drawings. In each case, except for the first state of the prints after fols. 7 and 9, these etchings carry the monogram of both the artist and the etcher.
The plates for another group of etchings, after fols. 53, 71, 77, 84-7, and 106, were engraved by the Leiden printmaker Johannes Christianus Janson (1763-1823). Although the print after fol. 77 is signed "C. Chalon inv." and "J.C. Janson Sculp," none of the others in this group carries a signature or monogram. According to the inscription on the album page, fol. 24 was also etched by Janson, but no impression of the print is included in the Morgan album.
Associated names:
Worm, Nicolaas van der, 1757-1828, engraver.
Janson, Johannes Christianus, 1763-1823, engraver.
Buren, Isaac van, former owner.
Price, Charles Rugge, Sir, former owner.
Morgan, J. Pierpont (John Pierpont), 1837-1913, former owner.