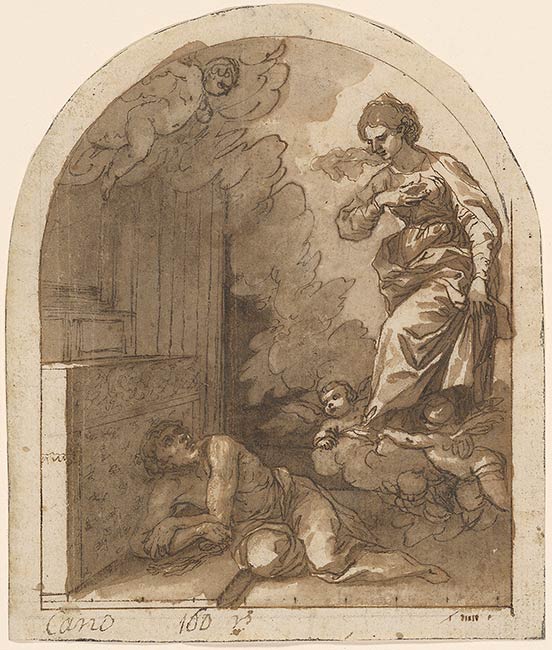 The Virgin Appearing to a Man Lying Before an Altar
Pen and brown ink and wash, over black chalk, on laid paper; framing lines in pen and brown ink; upper portion of sheet trimmed in the shape of an arch.
Maximum dimensions: 5 7/8 x 5 inches (150 x 126 mm)
Purchased by Pierpont Morgan (1837-1913) in 1909.
Inscription:
Inscribed in pen and brown ink at lower left, "Cano/ 100".
Provenance:
Charles Fairfax Murray (1849-1919), London and Florence; from whom purchased through Galerie Alexandre Imbert, Rome, in 1909 by Pierpont Morgan (1837-1913), New York (no mark; see Lugt 1509); his son, J. P. Morgan, Jr. (1867-1943), New York.
Bibliography:
Collection J. Pierpont Morgan : drawings by the old masters formed by C. Fairfax Murray. London : Privately printed, 1905-1912, I, 109.
Notes:
The miraculous vision of the Virgin offering a stream of milk is usually associated with St. Bernard of Clairvaux, as seen perhaps most famously in Alonso Cano's painting of ca. 1645-52 for the Capuchin monks of Toledo, now in the Museo del Prado. This drawing shows the Virgin Lactans, but the flagellant before the altar does not appear to be St. Bernard, and the precise subject of the drawing remains mysterious.
This minute drawing with an arched top depicts the Lactating Virgin appearing to a flagellant who may personify the Christian soul. Before executing the figures, Cano meticulously planned the composition by including scale markings at the bottom of the page. Although the iconography is difficult to interpret, the flagellant, lying before an altar, is startled by the vision engendered by his prayer and physical punishment. The viewer can thus contemplate two images: the flagellant who is experiencing the vision and the vision itself. --Exhibition Label, from "Visions and Nightmares: Four Centuries of Spanish Drawings"
Associated names:
Murray, Charles Fairfax, 1849-1919, former owner.
Morgan, J. Pierpont (John Pierpont), 1837-1913, former owner.