Young Man Taking a Step, with a Basket and Balancing a Sack on His Head. Verso: An Additional Study of the Same Figure
Black chalk on paper; verso: black and red chalk; nine horizonal lines.
10 3/8 x 5 1/4 inches (264 x 134 mm)
Purchased by Pierpont Morgan (1837-1913) in 1909.
I, 30 (recto), IV, 14 (verso)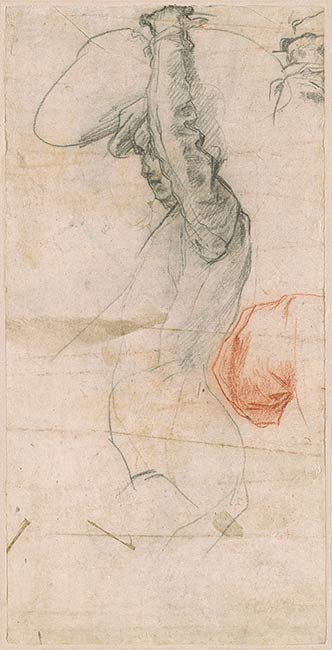 Inscription:
Inscribed on verso of mount, at top, above hand (but covered by mount) in graphite, "12".
Watermark: Anchor surmounted by a small circle (Briquet 443: Laibach 1525).
Provenance:
Jonathan Richardson Sr., London (1665-1745; Lugt 2184); Sir Joshua Reynolds, London (1723-1792; Lugt 2364); Samuel Rogers (1763-1855), London; his sale, Christie's, London, 28 April-19May 1865, lot 952 Edward Aldam Leatham (1828-1900), Misarden Park, Cirencester, Gloucester; his sale, London, Christie's, 2 June 1902, lot 115 "Del Sarto - Study of a Man Carrying a a Sack - black chalk. From Sir Joshua Reynolds' collection"; Charles Fairfax Murray (1849-1919), London and Florence; from whom purchased through Galerie Alexandre Imbert, Rome, in 1909 by Pierpont Morgan (1837-1913), New York (no mark; see Lugt 1509); his son, J. P. Morgan, Jr. (1867-1943), New York.
Description:
One of the leading painters in Florence during the early sixteenth century, Andrea del Sarto excelled in representations of the human figure, meticulously preparing each pose by drawing from the live model.1 In comparison to life studies by the preceding generation, the underlying anatomy beneath the drapery is easily understood; the emphasis shifted to a clarification of the function and movement of the body. On the recto of the present sheet, the artist rapidly outlined the figure of a garzone, or studio assistant, taking a step while balancing a bundle on his head and bracing a basket against his hip. On the verso are three secondary studies for the same figure, presumably also drawn from the model: a rapid sketch of the upper part of the garzone, concentrated on the left arm supporting the sack; to the right of this, a slight notation of the hand and wrist as they arch over the side of the bundle; and a brief rendering in red chalk of one end of the sack.
The studies are preparatory for the figure of a manservant ascending a short flight of stairs in the monochrome fresco of the Visitation in the cloister of the convent of the Compagnia dello Scalzo, Florence. Andrea may have begun the cycle of twelve grisaille murals with stories from the life of St. John the Baptist—his first major independent commission—as early as 1507 or 1508. He continued to work on the project throughout his career, eventually completing it in 1526. The fresco of the Visitation, for which payment was received in November 1524, was the last but one to be executed. Quite unusually, the clothes of the garzone as seen in the drawing remain unaltered in the finished fresco.2
A drawing in red and black chalk by Andrea for the head of Zechariah, seen at left in the same fresco, is in the Musée des Beaux-Arts, Dijon; like the present drawing, it was once part of the Reynolds collection.3 Not surprisingly, the Morgan's elegant figure of the servant held a strong fascination for several generations of artists, as demonstrated by copies after it in Oxford and Brno,4 and a copy after the painted counterpart by Manet in the Louvre.5
—REP
Footnotes:
"His figures [ . . . ], for all their simplicity and purity, are well conceived, free from errors, and absolutely perfect in every respect." See Vasari 1996, 1:823; Vasari 1878–85, 5:6.
For an hypothesis regarding the unaltered insertion of the figure into the fresco, see Marciari in New York and Williamstown 2017–18, 34. A second, much smaller version of the Visitation, painted in oils on panel and in color, is in the Galleria Spada, Rome, though it is considered by some to be a workshop or later copy; the drawing was surely made for the earlier fresco.
Musée des Beaux-Arts, Dijon, inv. ca 819; see Guillaume 2004, no. 332. It is sometimes considered a later copy, though, judging from reproductions, it seems autograph.
Christ Church Picture Gallery, Oxford, inv. 0728; see Byam Shaw 1976, 1:80, as after Andrea del Sarto. Formerly in Richardson's col lection, it bears the inscription on the verso of its mount in Richardson's hand, Brought from Florence by Sr Andrew Fountayne. [ . . . ] See anoth: of these E.42 & the whole Pict. T. 43. The drawing with shelfmark E.42 surely refers to the Morgan Library original. Moravská Galerie, Brno, inv. b 2496; see Brno 1969, no. 116.
Musée du Louvre, Paris, inv. rf 30305; see de Leiris 1969, no. 46. A further copy after the painted figure exists on a sheet of studies by Baldassare Franceschini, known as Il Volterrano, in the Morgan Library & Museum, New York, inv. 1971.12
Bibliography:
Rhoda Eitel-Porter and and John Marciari, Italian Renaissance Drawings at the Morgan Library & Museum, New York, 2019, no. 31.
Selected references: Richardson 1722, 83; Waagen 1854, 80; Fairfax Murray 1905-12, 1:30, 4:14; Knapp 1907, 135; New London 1936, no. 23; Berenson 1938, 1:279; New York 1939, no. 70; Northampton 1941, no. 43; Mongan 1942, 93-94; Tietze 1947, no. 25; Cambridge 1948-49, no. 23; Worcester 1948, no. 34; Mongan 1949, 52; Philadelphia 1950-51, no. 33; Newark 1960, no. 11; Berenson 1961, 413; Forlani 1962, no. 23; Freedberg 1963, 130; Monti 1965, 168n144; New York 1965-66, no. 60; Shearman 1965, 1: under no. 14; Byam Shaw 1976, under no. 80; New York 1981, no. 16; Paris 1986-87, under no. 42; In August Company 1993, no. 4; New York 2006, no. 12; Munich 2008-9, no. 12; New York and Williamstown 2017-18, 34.
Collection J. Pierpont Morgan : Drawings by the Old Masters Formed by C. Fairfax Murray. London : Privately printed, 1905-1912, I, no. 30, repr.
Denison, Cara D., and Helen B. Mules, with the assistance of Jane V. Shoaf. European Drawings, 1375-1825. New York : Pierpont Morgan Library, 1981, p. 44, no. 16.
From Leonardo to Pollock: Master drawings from the Morgan Library. New York: Morgan Library, 2006, cat. no. 12, p. 28-29.
100 Master drawings from the Morgan Library & Museum. München : Hirmer, 2008, no. 12, repr. [Rhoda Eitel-Porter]
Associated names:
Richardson, Jonathan, 1665-1745, former owner.
Reynolds, Joshua, Sir, 1723-1792, former owner.
Rogers, Samuel, 1763-1855, former owner.
Leatham, Edward A. (Edward Aldam), former owner.
Murray, Charles Fairfax, 1849-1919, former owner.
Morgan, J. Pierpont (John Pierpont), 1837-1913, former owner.
Morgan, J. P. (John Pierpont), 1867-1943, former owner.