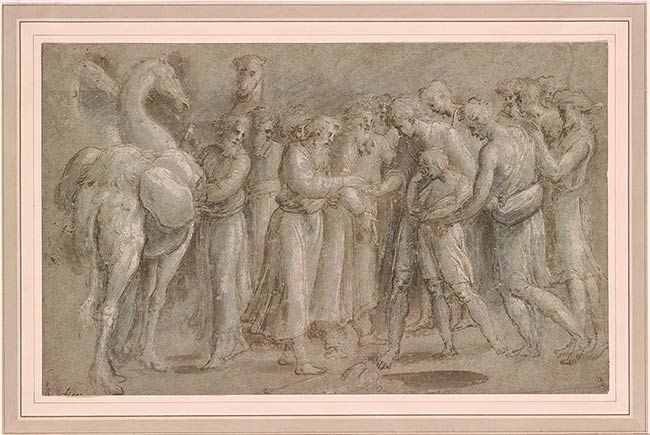 Follower of Biagio Pupini
Joseph Sold into Slavery by his Brethren
Pen and brown ink and wash, with white opaque watercolor, over black chalk, on blue paper, slightly faded.
9 5/16 x 16 inches (253 x 407 mm)
Purchased by Pierpont Morgan (1837-1913) in 1909.
Inscription:
Inscribed at lower left, in pen and brown ink, "B. italaas"?; cropped by lower edge.
Watermark: Possibly sphere surmounted by a cross. White lead highlights and inclusions in paper make beta hard to decipher.
Provenance:
Everhard Jabach, Paris (1607/10-1695; no mark; see Lugt 2959-60); his inventory folio 81 no. 143 "Pupini - Le petit Joseph vendu par ses frères à la plume lavé et haussé sur papier bleu long de 18 sur 12 1/2 pouces"; Gerhard Michael Jabach?; his sale?, Amsterdam, 16 October 1753, lot 148, as Raphael, I Daar Joseph verkogt word, met de pen, 2 fl. to Testas for Rutgers; Duc de Tallard (no mark; see Lugt 1085); his sale, Paris, 22 March 1756, lot 211, "Raphael - Joseph vendu par ses frères. Dessin fini & bien conservé pour un des tableaux qui ont été exécutés dans les Loges du Vatican. Il vient originairement du Cabinet de M. Jabach fameux curieux & connaisseur"; G. Hoet (no mark; see Lugt 1158); his sale, 1760, lot 1 "Joseph vendu par ses fréres, Morceau Capital dessiné à la plume et un peu rehaussé de blanc, Raphaël, vient de Tallard" 95 fl. to Foucquet; A. Rutgers; sale 1778, lot 319 "Joseph door zyne Broederen aan de Ismaeliten verkogt; met de pen getekend en gewassen" 9 florins to Huslery (Huslarij); Sir Charles Greville (1763-1836), English army officer (Lugt 549); George Guy, Earl of Warwick, London (1818-1893; Lugt 2600); possibly his sale, London, Christie's, 21 May 1896, lot 297 "Various Compositions, after Raffaelle", one of three; Charles Fairfax Murray (1849-1919), London and Florence; from whom purchased through Galerie Alexandre Imbert, Rome, in 1909 by Pierpont Morgan (1837-1913), New York (no mark; see Lugt 1509); his son, J.P. Morgan, Jr. (1867-1943), New York.
Bibliography:
Collection J. Pierpont Morgan : Drawings by the Old Masters Formed by C. Fairfax Murray. London : Privately printed, 1905-1912, IV, 28, repr.
Associated names:
Raphael, 1483-1520, School of, Formerly attributed to.
Jabach, Everhard, 1618-1695, former owner.
Jabach, Gerhard Michael, former owner.
Tallard, Duc de, former owner.
Hoet, G., former owner.
Rutgers, A., 1695-1778, former owner.
Greville, Charles, 1762-1832, former owner.
Warwick, George Guy Greville, Earl of, 1818-1893, former owner.
Murray, Charles Fairfax, 1849-1919, former owner.
Morgan, J. Pierpont (John Pierpont), 1837-1913, former owner.