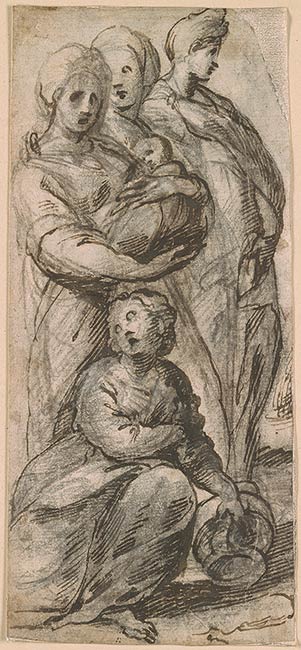 Circle of Jacopo da Pontormo
Four Women, One Carrying a Child and One Crouching, About to Fill a Jug
Pen and dark brown ink, over black chalk, with white opaque watercolor corrections, on laid paper; lined.
10 1/16 x 4 1/2 inches (255 x 115 mm)
Purchased by Pierpont Morgan (1837-1913) in 1909.
Inscription:
Inscribed on verso of lining, at top and bottom center, in graphite, "Pontormo; K."
Provenance:
Charles Fairfax Murray (1849-1919), London and Florence; from whom purchased through Galerie Alexandre Imbert, Rome, in 1909 by Pierpont Morgan (1837-1913), New York (no mark; see Lugt 1509); his son, J. P. Morgan, Jr. (1867-1943), New York.
Description:
The drawing was attributed to Pontormo while in the Fairfax Murray collection. It was subsequently given to Rosso Fiorentino by Bernard Berenson, though this did not gain the support of later scholars.1 The study appears to be Florentine and of the sixteenth century. The subject may be the Israelites in the desert.
Footnotes:
Berenson 1938, 2: 315, no. 2448D.
Bibliography:
Selected references: Fairfax Murray 1905-12, 4: no. 20 (as Pontormo); Toronto 1926, 20, no. 38 (as Pontormo); Berenson 1938, 2: 315, no. 2448D (as Rosso Fiorentino); New York 1939, 20, no. 68 (as Pontormo); Barocchi 1950, 226 (as school of Girolamo da Carpi).
Collection J. Pierpont Morgan : drawings by the old masters formed by C. Fairfax Murray. London : Privately printed, 1905-1912, IV, 20 (as Jacopo Pontormo).
Notes:
Watermark: none visible through lining.
The drawing was classified as by Pontormo while in the Fairfax Murray collection (Jacopo Carucci Pontormo. Pontormo 1494-1557 Florence). Subsequently given to Rosso Fiorentino by Berenson, an attribution with which later scholars, however, did not agreeFormerly attributed to