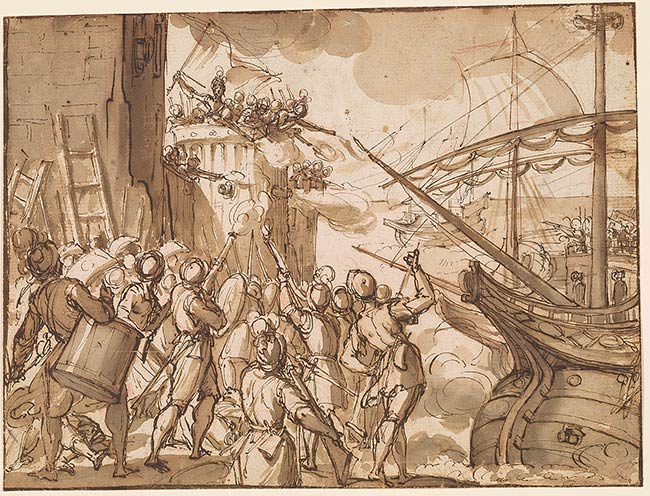 Circle of Bernardino Poccetti
Battle for surrender of a Fortified Harbor. Verso: Slight Sketch of Same Subject
Pen and brown ink, with brown wash, over red chalk, on paper; framing lines in brown ink; verso: red and black chalk.
7 7/8 x 10 11/16 inches (200 x 271 mm)
Purchased as the gift of the Fellows.
Inscription:
Inscribed on verso, at upper left, in pencil, "Nr (?) 34/21"; at lower right, "N 24677 AL 45 (Colnaghi stock number)".
Watermark: Fleur-de-lis in circle, fragment, (cf. Briquet 7111)
Provenance:
Sale, London, Sotheby's, 20 July 1960, no. 34; P. & D. Colnaghi and Co., London.
Description:
Traditionally the drawing has been attributed to Bernardino Poccetti with whose work it shares certain traits. The drawing shows some similarity to two studies in the British Museum associated with Poccetti's decoration of the Sala di Bona in the Palazzo Pitti, executed for the Medici in 1608-09, which commemorated the victory of Tuscan forces commanded by Jacopo Inghirami against the Berbers at the fortress of Bona in 1607.1 Of these, inv. 1859-3-16-1081, on blue paper, more closely resembles the style and technique of the Morgan sheet; as A. E. Popham pointed out, it is preparatory to the left-hand section of the Palazzo Pitti fresco. The vertical format of the other study, inv. 1953-12-12-8, has led Anna Forlani Tempesti to point out that, despite the squaring of the drawing, it may either represent an earlier solution for the final composition or have been made for another purpose, perhaps for a scene in a temporary decoration.2
An alternative attribution to Jacopo Chimenti, called Jacopo da Empoli, was suggested by Philip Pouncey in 1983 and 1984 (unpublished opinion recorded in the curatorial file). Jacopo also illustrated the Conquest of Bona in his painting of 1613-14 for the church of Santo Stefano dei Cavalieri in Pisa for which for which there are several figure studies in the Uffizi, Florence.3 The scene in the Morgan drawing, however, does not appear in this cycle.
Footnotes:
British Museum, London, inv. 1859-3-16-1081, 1953-12-12-8; London 1986, 247-48, nos. 192, 193.
Florence 1980, 167.
Uffizi, Florence, inv. 3445F, 3465F, 1592S. For Jacopo da Empoli's Conquest of Bona, Marabottini 1988, 233-34, no. 77.
Bibliography:
Pierpont Morgan Library. Review of Acquisitions, 1949-1968. New York : Pierpont Morgan Library, 1969, p. 161.
Adams, Frederick B., Jr., comp. Eleventh Report to the Fellows of the Pierpont Morgan Library, 1961. New York : Pierpont Morgan Library, 1961, p. 79.
Associated names:
Chimenti, Jacopo, 1551-1640, Formerly attributed to.