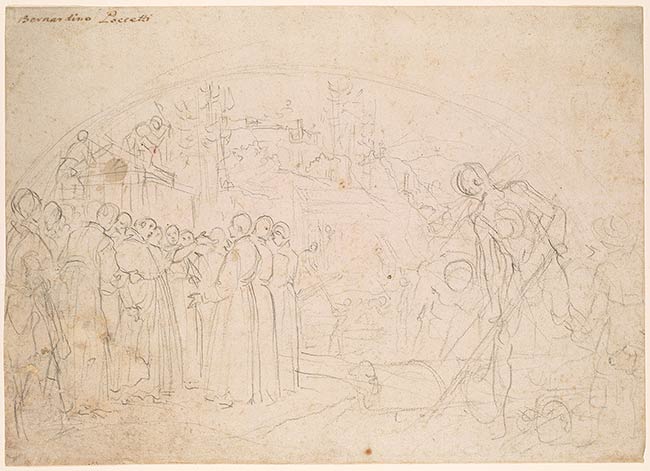 Seven Saintly Founders Supervising the Building of the Monastery of Monte Senário. Verso: Faint Sketch for Left Part of the Same Composition
Black chalk on paper; lunette shape.
8 x 11 1/8 inches (204 x 283 mm)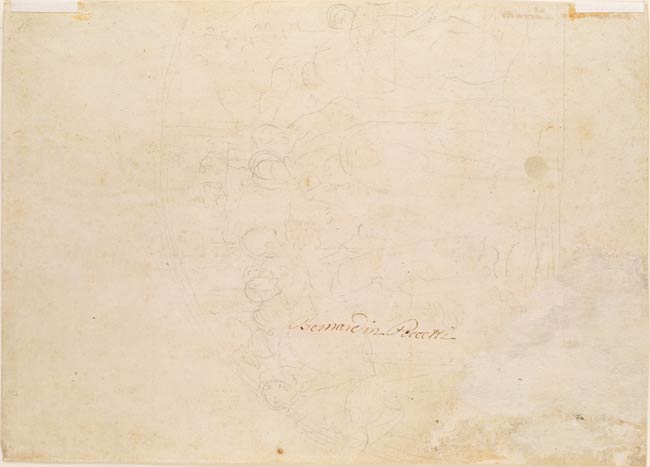 Inscription:
Inscribed at upper left, in pen and brown ink, "Bernardino Poccetti"; on verso, in pen and brown ink, "Bernardin Poccetti".
Watermark: Eagle within a circle surmounted by crown (cf. Briquet 209).
Provenance:
Possibly Giovanni Piancastelli (1845-1926), Rome (no mark; see Lugt S. 2078a); Edward (1857-1933) and Mary Brandegee (1871-1956), Boston (1904-1944; no mark; see Lugt S. 1860c); Janos Scholz (1903-1993), New York (no mark; see Lugt S. 2933b).
Description:
The drawing is a study for the lunette fresco by Poccetti, executed between 1604 and 1605, illustrating the Seven Founding Fathers of the Convent of Monte Senário in the main cloister (chiostro grande or chiostro dei morti) of Santissima Annunziata in Florence. The fresco depicts the seven saintly Florentine noblemen, who in 1234 had gathered on Monte Senário to found the Order of the Servi di Maria. The builders of the monastery are depicted at right and in the background, digging and erecting scaffolding for the sacred building. The present drawing shows the composition in a preliminary stage before the artist modified the group at left to include a tall youth with a flaring hat – perhaps the architect – and his young assistant holding a purse, both of whom appear in a later, finished compositional study in the Ian Woodner Family Collection.1 Three further sheets in the Uffizi are studies for individual figures in the fresco.2 Another drawing in the same collection shows the composition for another lunette, The Miracle of the Drowned Boy, in a similar early stage.3
The Monastery of the Monte Senário was restored in the fifth century and again in 1594 by Ferdinand I de' Medici, Grand Duke of Tuscany. It was probably on the occasion of this restoration that Poccetti was commissioned to paint the fresco series at Santissima Annunziata.
Footnotes:
New York and Elsewhere 1973-74, 2: no. 52.
Uffizi, Florence, inv. 8316F, 8472F, 8443F; Florence 1980, 78-82, nos. 66-67.
Uffizi, Florence, inv. 8276F; Florence 1980, 86, no. 73.
Bibliography:
Selected references: Oakland and Elsewhere 1961, no. 64; Hamburg and Cologne 1963-64, no. 121; Washington and New York, 1973-74, 41-42, no. 32; Scholz 1976, no. 48; Florence 1980, 79-80, under no. 66.
Ryskamp, Charles, ed. Nineteenth Report to the Fellows of the Pierpont Morgan Library, 1978-1980. New York : Pierpont Morgan Library, 1981, p. 174.
Oberhuber, Konrad, and Dean Walker. Sixteenth Century Italian Drawings From the Collection of János Scholz. Washington, D.C. : National Gallery of Art ; New York : Pierpont Morgan Library, 1973, 32, repr. (includes previous bibliography and exhibitions).
Scholz, Janos. Italian Master Drawings, 1350-1800, from the János Scholz Collection. New York : Dover, 1976, 48, repr.
Notes:
Preparatory design for the fresco in the cloister of Santissima Annunziata, Florence.
Associated names:
Piancastelli, Giovanni, 1845-1926, former owner.
Brandegee, Edward, former owner.
Brandegee, Mary, former owner.
Scholz, János, former owner.