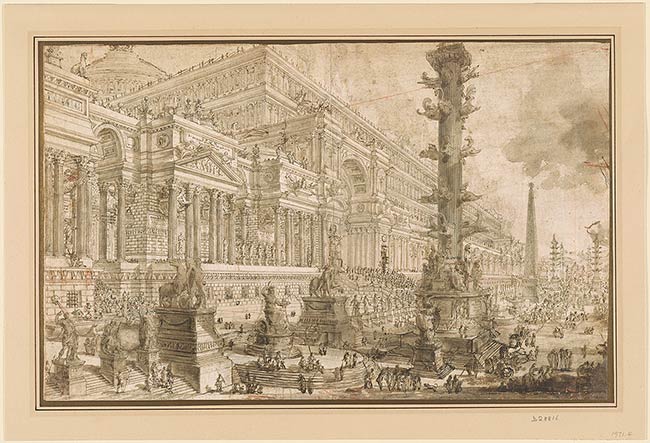 Giovanni Battista Piranesi
Architectural fantasy with a Colossal Facade
Pen and brown ink and wash, over graphite and red chalk, on paper irregularly trimmed along lower edge.
10 9/16 x 16 7/8 inches (270 x 428 mm)
Purchased as the gift of Alice Tully.
Inscription:
Watermark: Fleur-de-lis inside double circle, surmounted by letter V.
Provenance:
P. & D. Colnaghi and Co., London.
Bibliography:
Denison, Cara, Myra Nan Rosenfeld, and Stephanie Wiles. Exploring Rome : Piranesi and His Contemporaries. New York : Pierpont Morgan Library; Montréal : Centre Canadien d'Architecture, 1993, no. 26, repr.
Ryskamp, Charles, ed. Sixteenth Report to the Fellows of the Pierpont Morgan Library, 1969-1971. New York : Pierpont Morgan Library, 1973, p. 119.
Notes:
With a colossal facade, a Pantheon-inspired dome, obelisks, fountains, and a wide stair, this architectural fantasy is similar to the "Ancient Capital" plate in Piranesi's "Prima Parte d'Architettura." Yet the monumental scale, with a grandeur bordering on the megalomaniacal, points to Piranesi's developing vision of the following years. To increase the sense of the buildings' scale, Piranesi not only added hundreds of miniscule figures populating the scene, but he also has the main facade stretch to--and be cut off by--the top of the frame, a compositional device he would likewise adopt for many of his views of Rome. Moreover, in contrast to the often-generic fountains and sculptures of the Prima Parte scenes, Piranesi here inserts actual Roman remains; the Palazzo Spada Seneca, the Giustiniani Domitian, the Quirinal Horsetamers, and more. The overall effect departs from models such as the capricci in Giuseppe Galli Bibiena's "Architetture, e prospettive" and begins to look ahead to Piranesi's distinctly personal accounts of the ancient city. An imaginary, idealized "Reconstruction of the Circus Maximus" in the Kupferstichkabinett, Berlin (KdZ 8458) is virtually a pendant to the Morgan's Architectural Fantasy: it has as the same traces of red chalk and black chalk showing some of the perspective construction, the same reinforcement with gray-brown wash, and the same slightly fussy penwork delineating the details of the architecture. Compositionally, the two works mirror one another, with long, plunging diagonal perspectives broken by columns, obelisks, and the like. Although the Berlin drawing was used in 1756 as the model for the second frontispiece of volume three of Piranesi's "Antichita` Romane," the design must originally date to the mid-1740s, like the Morgan sheet.
Associated names:
Tully, Alice, 1902-1993, donor.