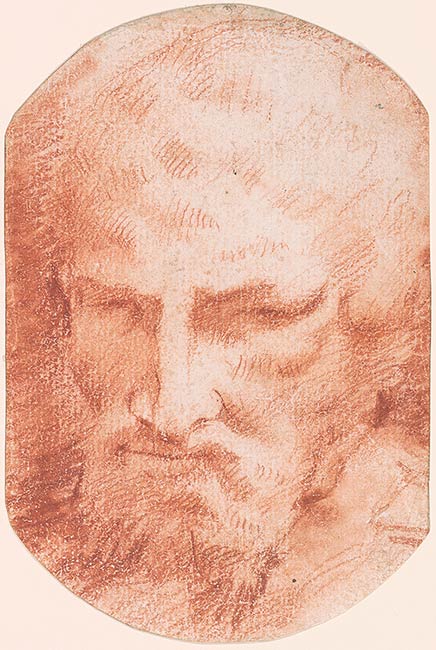 Giovanni Battista Piranesi
Head of Bearded Man Three-quarters Left. Verso: fragment of decorative design
Red chalk, over black chalk, on paper cut to semi-circle at top and bottom; verso: black chalk.
6 1/2 x 4 5/16 inches (166 x 110 mm)
Bequest of Junius S. Morgan and gift of Henry S. Morgan.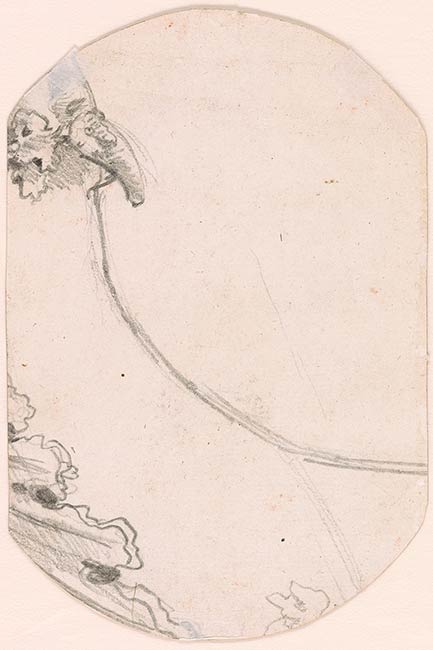 Inscription:
Numbered at upper right, in graphite, "12".
Provenance:
Mrs. J.P. Morgan, New York; by descent to her sons Junius S. Morgan, Princeton and Paris (no mark, see Lugt 1536) and Henry S. Morgan, New York.
Bibliography:
Stampfle, Felice. Giovanni Battista Piranesi, Drawings in the Pierpont Morgan Library. New York : Dover, 1978, no. 31, repr.
Notes:
On same mat as 1966.11:32.
Whereas many of Piranesi's figure drawings appear to be sketched from life, this drawing (and the companion study, 1966.11:32) almost certainly copy ancient sculpture, perhaps some depiction of Dacians given the mens' long beards and hair, although the precise source has not yet been identified. The brilliant lighting, using the white reserve of the paper as a strong highlight against the drawn lines and stumped red chalk, is typical of Piranesi's draftsmanship in the later 1750s and around 1760. Moreover, a herm in the foreground of a plate in the Antichità Romane from 1756 has a head similar to one shown here, which further supports that dating.
The drawing on the verso, as recognized by Georg Kabierske, is a fragmentary study of a rhyton formerly in the Villa Borghese and now in the Musee du Louvre (inv. MR 1010). The rhyton appears on the title page of Piranesi's "Le Rovine del Castello dell'Acqua Giulia" of 1761, and the drawing was, like the head on the recto, likely made around that time.
Associated names:
Morgan, Jane Norton, 1868-1925, former owner.
Morgan, Junius Spencer, 1892-1960, former owner.
Morgan, Henry S. (Henry Sturgis), 1900-1982, former owner.