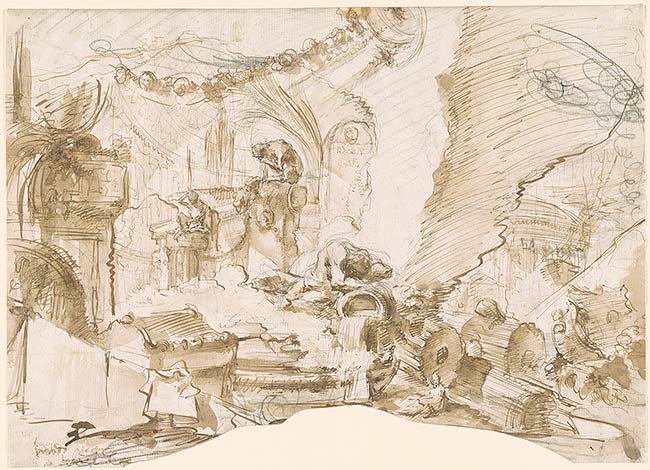 Giovanni Battista Piranesi
Capriccio with Fountain, Fallen Columns, and Satyrs
Pen and brown ink and wash, over black chalk, on paper trimmed along lower edge in a decorative curve.
14 1/2 x 20 3/16 inches (368 x 512 mm)
Bequest of Junius S. Morgan and gift of Henry S. Morgan.
Inscription:
Inscribed at lower left, in pen and brown ink, "tronco / grande (girando?) per terra / ò sia terrano."; at lower center, two illegible words.
Watermark: Bow and arrow. (Briquet 738.) Same as watermark on 1966.11:10, 1966.11:11 and 1966.11.12
Provenance:
Mrs. J.P. Morgan, New York; by descent to her sons Junius S. Morgan, Princeton and Paris (no mark, see Lugt 1536) and Henry S. Morgan, New York.
Bibliography:
Denison, Cara, Myra Nan Rosenfeld, and Stephanie Wiles. Exploring Rome : Piranesi and His Contemporaries. New York : Pierpont Morgan Library; Montréal : Centre Canadien d'Architecture, 1993, no. 20, repr.
Notes:
Although the dramatically jagged hatching of the pen lines at right gives the impression that this sheet was thrown off in a fury of invention, Piranesi actually constructed the drawing with care. He first laid out the composition with black chalk, then added pen lines of varying thickness, and finished with several layers of transparent brown wash. The sheet is one of several inspired by Tiepolo's Scherzi, though the architectural elements in the background recall some of Piranesi's own earlier studies for the Prima parte di architetture. The vase pouring water, muscular nude, and half-skeletal creatures sitting atop the ruins all reappear in the "Skeletons" plate of Piranesi's Grotteschi.
Associated names:
Morgan, Jane Norton, 1868-1925, former owner.
Morgan, Junius Spencer, 1892-1960, former owner.
Morgan, Henry S. (Henry Sturgis), 1900-1982, former owner.