Attributed to Bartolomeo Montagna
Nude Man Standing beside a High Pedestal
Brush and black ink and brown wash, with white opaque watercolor, over black chalk, on blue paper faded to brown.
15 3/4 x 10 3/16 inches (400 x 258 mm; maximum dimensions)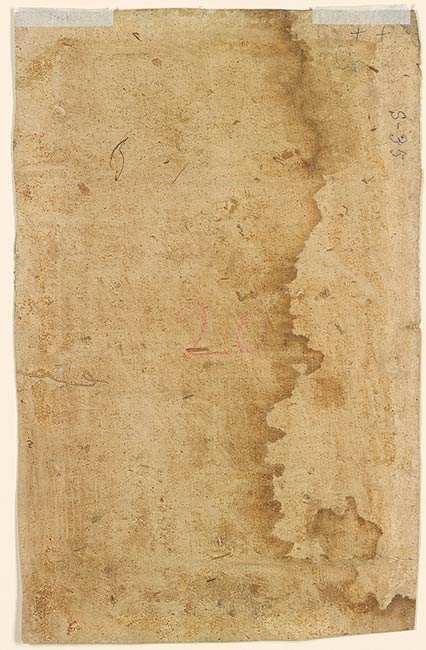 Inscription:
Inscribed at lower center, in pen and brown ink, "21"; at lower right, in pen and brown ink, "vene(?)"; on verso of lining, in pen and brown ink, "3"; in graphite, "++; S-35"; in blue chalk, "5"; in pink chalk, "20".
Provenance:
Possibly Count Lodovico Moscardo (1611-1681), Verona; possibly by descent to Teresa Moscardo Miniscalchi, Verona; Count Mario Miniscalchi-Erizzo, Verona; Francis Matthiesen (1897-1963), London; Mathiessen Gallery, London; Mario Uzielli (1888-1973), Liestal, Switzerland; from whom acquired in 1947 by Otto Manley (1904-1989), Vienna and Scarsdale, New York.
Description:
The Nude Man Standing Beside a High Pedestal is a rare example of a work by Montagna with secular subject matter. While the exact identification of the figure remains elusive, it is clearly of classical inspiration. The grapes spilling over the edge of the cornucopia or vase mounted on a caduceus-like wand lashed with a palm are a common attribute of the god Bacchus and his followers, although, as noted below, the nude may have been an athlete rather than a god.
When acquired by Otto Manley in 1947, the drawing was thought to be by the Bolognese artist Francesco Francia; however, the subsequent attribution to Montagna, made by Philip Pouncey on the basis of a photograph, has found general support. As noted by Annegrit Schmitt-Degenhart, the drawing forms a pair with Montagna's Standing Draped Female Holding a Sphere and Caduceus in the Louvre, which is executed in an identical technique (though in a different state of preservation) and thought to represent a Venus of victory (inv. 8258).1 As further observed by the same scholar, the pose derives from a lost, probably antique statue known through a series of sixteenth-century statuettes of a standing figure of Hercules leaning on his club (rather than against a pedestal as in the present sheet) with his right foot similarly crossed in front of his left and his head turned to the left. The lost antique prototype is the subject of a drawing likely created during the late fifteenth century by Giovanni Bellini or a member of his workshop and part of the Louvre's Bellini album.2 Montagna also may have been aware of Pliny the Elder's ekphrastic description of an antique painting by Eupompus, who flourished in Greece in the fourth century b.c.: "A work of Eupompus is a Winner in a Gymnastic Contest holding a Palm branch."3 Montagna may have fashioned a re-creation of Eupompus's athlete that fused the classical pose and idealization of the body with a crisp, northern Italian sense of realism, seen in the depiction of the hair and individualized facial features as well as in such details as the protruding veins on the feet.
Knowledge of antique art and literature would not have been uncommon in the humanist circles of northern Italy during the fifteenth century, and Montagna must have found a number of sophisticated and discriminating patrons appreciative of such a recherché subject. His connection to the Gualdo, a noble family in Vicenza with a renowned art collection, appears to have been particularly close.4 The detailed and careful execution of the drawing implies that it was made as a finished work of art in its own right—to be bestowed as a gift or perhaps sold—rather than as a preparatory study for a painting. It is not clear where these works fit into Montagna's career, but it has been suggested that the Louvre Standing Draped Female is fairly late, around 1515; the Morgan Nude would presumably be of the same date.
—REP
Footnotes:
Written communication, August 2005. On the Louvre drawing, see Dominique Cordellier in Paris 1992, no. 1.
For a good reproduction of the version of the statuette in the Museo Estense, Modena, see Degenhart and Schmitt 1968–2010, 2: no. 720, 416–17, fig. 401. In the opinion of Paul Joannides, the statuettes are based on an invention by Michelangelo of around 1493, for which see Joannides 2003, 406–8. For the Bellini drawing at the Louvre (Album Bellini, folio 76 recto, inv. rf 1544, 95) see Degenhart and Schmitt 1968– 2010, 2: no. 720, 416–17, pl. VII.
This idea was proposed by Federico Rausa in 2002 (oral communication). I thank Isabel Wilcox for finding the exact reference: Pliny 1938–63, 9:317.
As discussed by Genevieve Verdigel in her PhD dissertation on Bartolomeo and Benedetto Montagna, Warburg Institute, London, in preparation.
Bibliography:
Rhoda Eitel-Porter and and John Marciari, Italian Renaissance Drawings at the Morgan Library & Museum, New York, 2019, no. 12.
Selected references: New York 1965-66, no. 14; Vitzthum 1966, 110; New York 1974, 42-43; Los Angeles 1976, no. 38; Northampton 1978, no. 33; New York 1981, no. 7; Nielsen 1995, 200-201, no. 116; New York 2006, no. 5.
Stampfle, Felice, and Jacob Bean. Drawings from New York collections. I: The Italian Renaissance. New York : Metropolitan Museum of Art : Pierpont Morgan Library, 1965, no. 14, repr.
Ryskamp, Charles, ed. Seventeenth Report to the Fellows of the Pierpont Morgan Library, 1972-1974. New York : Pierpont Morgan Library, 1976, p. 174.
From Leonardo to Pollock: Master drawings from the Morgan Library. New York: Morgan Library, 2006, cat. no. 5, p. 12-13.
Notes:
Watermark: none visible through lining.
Associated names:
Moscardo, Lodovico, 1611-1681, former owner.
Miniscalchi, Teresa Moscardo, former owner.
Miniscalchi-Erizzo, Mario, 1881-1957, former owner.
Matthiesen, Francis, 1897-1963, former owner.
Uzielli, Mario, 1888-1973, former owner.
Manley, Otto, 1904-1989, former owner.